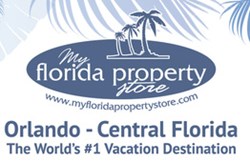 Orlando, FL (PRWEB) January 23, 2014
Leading central Florida real estate group specializing in sales to foreign nationals, My Florida Property Store (MFPS), helps potential buyers see the value of Central Florida Real Estate by outlining the top 10 reasons to visit one of the locale's top visited destinations, Disney World. Disney World is responsible for the majority of income in the region and draws visitors from all around the world making Orlando a sought after place to vacation and live.
Disney outlined a list of 14 reasons to visit Disney Parks in 2014. The My Florida Property Store real estate group has scoured the list and handpicked it's top 10 reasons to visit Central Florida's most popular location.
1.Food trucks are now available at Downtown Disney as a fun new dining option!
2.Another season of 2014 runDisney racing fun begins January 8, with the Walt Disney World Marathon Weekend.
3.Epcot International Flower & Garden Festival returns to the park March 5 – May 18. This annual festival, with its floral displays, topiaries, and food fun, will showcase Kermit the Frog and Miss Piggy as this year's lead topiary.
4.St. Patrick's Day Festivities at Downtown Disney!
5.Star Wars Weekends will add more film fun to Disney's Hollywood Studios May 16-June 8, 2014.
6.Car Masters Weekend, an event that's perfect for car lovers (and lovers of "Cars"), will return to Downtown Disney June 14 – June 15, 2014.
7.Disney's Night of Joy will return to Magic Kingdom Park on September 5-6, with artists MercyMe and Matthew West already in the lineup.
8.Spice Road Table, a new restaurant planned for the Morocco pavilion at Epcot, will open its doors in early 2014. Check out a sneak peek at the menu's yummy dishes here.
9.The new Disney's Festival of Fantasy Parade will debut at Magic Kingdom Park this spring featuring floats inspired by the films "The Little Mermaid," "Tangled," "Brave" and many more.
10.A new ride! The Seven Dwarfs Mine Train, the latest and largest installment in the New Fantasyland expansion, which will debut at Magic Kingdom Park in 2014 to tell the story of "Snow White" from the perspective of the Seven Dwarfs.
Through hundreds of home purchases, My Florida Property Store has seen the above factors influence buyers heavily. For those looking into the possibility of owning a property in the World's Number One Vacation Destination and wanting to work with a professional, ethical and trusted company My Florida Property Store is the ideal brokerage. To learn more about the many services My Florida Property Store provides please contact us at +1 (407) 923-2134 or visit MyFloridaPropertyStore.com.
About My Florida Property Store:
My Florida Property Store (MFPS) specializes in the representation of foreign national and out-of-state clients in the buying and selling of investment properties, for short-term or long-term rental. MFPS boasts an extensive database of Villa Style Homes, Condos and Town Homes in Central Florida with a focus in Celebration, Davenport, Dr. Phillips, Kissimmee, Reunion, Windermere, the Metro Disney area and Lake Nona – "Medical City" corridor. The MFPS team is fully familiar with local customs in multiple countries around the world which is essential in order to communicate detailed local purchase information in an easily understood, simplified and explainable fashion. My Florida Property Store is a member of the Osceola County Association of REALTORS® and the National Association of REALTORS®.