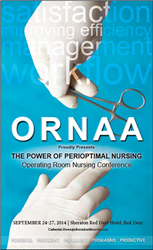 It's a great opportunity for us to learn about the needs that Canadian healthcare professionals have, in order for us to help them do their job more efficiently and effectively
Winnipeg, Manitoba (PRWEB) August 30, 2014
Meditek is no stranger to the ORNAA conference, having attended in previous years. "We're very excited and honored to be taking part in this year's conference. The operating room plays such an important part of each hospital, and we want to make sure that we're doing our part in facilitating the most efficient process possible," explains Marla Pozernick, National Sales Manager at Meditek.
This year marks the 31st ORNAA Conference, and their first biennial conference. The conference theme is, "The Power of Perioptimal Nursing" which places an emphasis on powerful, proficient, prevalent, persuasive and productive nursing skills.
Meditek plans to exhibit a variety of products at the conference, which will showcase the innovative operating room solutions that it provides.
The products on display include:

ReNew Steris 3085 Surgical Table
QA4 Powered Day Surgery Stretcher
Relaxa Gel Pads & Positioners
Samarit Transfer Board
Optimaxx Surgeon Headlight
Meditek operating room products include:

Surgical tables and accessories
Surgical and exam lights
Stretchers and accessories
Cushions and mattresses
Gel pads and positioners
Equipment booms and carriers
Surgeon headlights
And much more
"ORNAA is a great opportunity for front line hospital staff to learn about some of our new products, such as the Meditek QA4 Stretcher/Surgical Table. As well, it is also a great opportunity for us to learn about the needs that Canadian healthcare professionals have, in order for us to help them do their job more efficiently and effectively," says Greg Thompson, Meditek's Alberta Territory Sales Manager.
Both Marla Pozernick and Greg Thompson will be at the Meditek exhibit and are looking forward to meeting with ORNAA members.
For further details, please contact:
Brad Samuels, Marketing Manager
Meditek
1.800.567.8400
info(at)mediteksurgical.ca
http://www.mediteksurgical.ca
About Meditek:
Meditek is an established designer, manufacturer and supplier of a wide
variety of medical products, everything from surgical table mattresses to stretchers. More information about Meditek can be found at http://www.mediteksurgical.ca