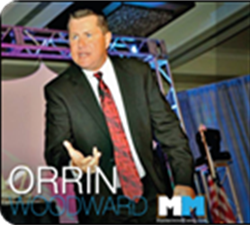 I don't give speeches; I merely share what is in my heart with others.
Cary, NC (PRWEB) February 05, 2015
'New York Times' Bestselling Author and Chairman of the Board of LIFE Leadership Orrin Woodward was recently named on 'Inc.' magazine's list of "100 Great Leadership Speakers for Your Next Conference."
Jeff Haden, the contributing writer for the 'Inc.' magazine piece, set out to come up with a list of excellent business and leadership speakers because, as someone who does a number of speaking events every year, he is often asked to make recommendations. But he didn't feel he had seen enough speakers to sufficiently handle the task himself. So in order to provide a comprehensive list of outstanding business speakers (and thinkers), he turned to keynote speaker, bestselling author, and entrepreneur Kevin Kruse, who has seen tons of speakers at his own events as well as numerous others, to compile a list of his favorite leadership speakers and trainers. For those looking for the best leadership speakers for an event, Haden recommends checking out the people, such as Orrin Woodward, on Kruse's list. And for those considering going to a certain event, he recommends dropping everything to attend if one of these people is on the program.
Woodward is a recognized leader in team leadership, success coaching, and executive management training. Formerly an engineer, who still holds four US patents, he has cofounded two multimillion-dollar companies as well as a nonprofit organization, All Grace Outreach. He has sold over a million copies of his books and has been attracting large crowds for his speaking events for years, regularly speaking at conventions that his own companies have hosted as well as various other business, leadership, and network marketing events across the globe, such as the Mastermind Event.
Woodward says he had to work to overcome his fears and limiting beliefs to get where he is as a speaker today. In fact, experiences with public speaking in high school and college left him feeling like a failure. But he knew that his dream of running a leadership company and his limiting beliefs about speaking could not coexist. So he spent years developing his speaking ability and vowed never to give a speech again but, rather, to learn his subject so well that he could simply "speak extemporaneously for hours at a time." He says, "To this day, I don't give speeches; I merely share what is in my heart with others."
The full list of recommended business and leadership speakers is available at inc.com.
About Orrin Woodward:
Orrin Woodward is a 'New York Times' bestselling author with over a million books sold. Some of his most popular works include 'Launching a Leadership Revolution' (coauthored with Chris Brady), 'LeaderShift' (coauthored with Oliver DeMille), 'The Leadership Train,' 'And Justice for All,' and 'RESOLVED' (which was named as an All-Time Top 100 Leadership Book). Woodward is a cofounder and Chairman of the Board of LIFE Leadership and Obstaclés Press as well as a cofounder and President of the philanthropic foundation All Grace Outreach. He was listed as #20 on 'Inc.' magazine's Top 50 Leadership and Management Experts list. His blog (orrinwoodwardblog.com) has been selected as one of HR's Top 100 Blogs for Management and Leadership and as a Universities Online Top 100 Leadership Blog. Woodward is also the recipient of a National Technical Benchmarking Award and holds four US patents.