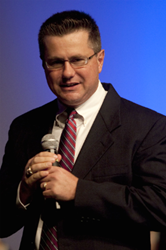 When government performs its delegated role of protecting inalienable rights, society's members will naturally gravitate to the 'economic means' of wealth creation, and society will flourish.
Columbus, OH (PRWEB) June 04, 2014
Orrin Woodward, author of And Justice for All, is taking a different approach to his next book signing. Rather than simply greeting his fans, he is attempting to set a GUINNESS WORLD RECORDS® title for the "Largest Book Signing" in history.
The event will take place in Columbus, Ohio, at the Nationwide Arena on June 21, 2014, beginning at 8:00 a.m. Mr. Woodward's LIFE Leadership organization has recently partnered with Next Century Publishing through LIFE Leadership's publishing arm, Obstaclés Press.
The current GUINNESS WORLD RECORDS® achievement for the most books signed at a single event is held by Sammy Lee from Hong Kong. On January 19, 2013, Mr. Lee signed a total of 4,649 copies of his book Autopilot Leadership Model in Shenyang, Liaoning, China. The feat spanned 13 hours, from 7:00 a.m. until 8:00 p.m. The actual signing time was recorded at 11 hours, 42 minutes, and 58 seconds, according to Guinness World Records Limited. The report can be found at http://www.guinnessworldrecords.com/world-records/1/largest-book-signing.
In order to set a new GUINNESS WORLD RECORDS® title, an individual must accomplish something that is truly noteworthy. To break the standing record for most books signed at a single event, Mr. Woodward will have to sign at least 4,650 copies of his book.
As Chairman of the Board for LIFE Leadership, Mr. Woodward represents both the organization and its publishing division, Obstaclés Press, in this endeavor. Recently named Number 20 of the Top 50 Leadership and Management Experts by Inc.com, Mr. Woodward will be supported at the book signing by his business partner Chris Brady, who was recently named Number 39 on the Top 50 list. More information about the Top 50 Leadership and Management Experts can be found on Inc.com.
Next Century Publishing is celebrating the new partnership with Obstaclés Press by providing sponsorship for the GUINNESS WORLD RECORDS® event. NCP will be on hand to help promote the day with CEO Ken Dunn and many of his staff there to provide support and cheer the author on to victory.
About Orrin Woodward:
New York Times bestselling author Orrin Woodward has sold over a million copies of his various books on leadership and personal development. His book RESOLVED: 13 Resolutions for LIFE was named as an All-Time Top 100 Leadership Book and is used as an educational tool by many schools and businesses across North America. As a cofounder and Chairman of the Board of LIFE Leadership, Orrin speaks to large audiences around the globe on leadership, success, mentoring, personal development, history, economics, and freedom. He is also a cofounder of the charitable organization All Grace Outreach and serves as the President of its Board of Directors. His blog (orrinwoodwardblog.com) was named an All-Top Leadership Blog selection and one of HR's Top 100 Blogs for Management and Leadership. His latest book, And Justice for All, will be available in the summer of 2014 and will be featured at the June 21 GUINNESS WORLD RECORDS® event in Columbus, Ohio.