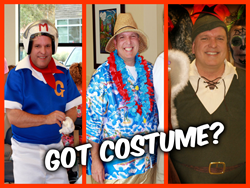 Columbia Orthodontics in Vancouver WA wants to show you how to enjoy Halloween in braces without hurting your hardware!
Vancouver, WA (PRWEB) November 09, 2015
Columbia Orthodontics is an orthodontic clinic in Vancouver, WA, that likes to take part in the fun each Halloween by dressing up in costumes. The entire staff enjoys dressing up, and this Halloween was no different.
They recently said: "Our office slogan is 'We're all about smiles!' I think we really bring life to this around the holidays, especially by dressing up for Halloween."
Pictures of this event can be found on their Facebook page. Columbia Orthodontics encourages customers and the community to look at all of the great pictures in hopes of inspiring more smiles.
Dr. Robert Croft does not skip out on the fun, in fact the staff at Columbia Orthodontics anticipates what he will wear each year. In a previous year he wore a costume that they still talk about. They recently said: "I wish you could see that his Robin Hood costume was completed with green tights--which he wore all day!"
The staff at Columbia Orthodontics wants their patients to know that they enjoy celebrating holidays, and making great memories together with the community. They enjoy sparking some smiles in their patients. They truly have so much fun with the creation of the perfect costumes.
The staff also wants their patients to know how much they value Dr. Croft. They recently shared this statement: "Dr. Croft really brings the smiles with his fun loving attitude. It's a great place to be."
With everyone in the holiday spirit, Columbia Orthodontics recently shared some advice about Halloween in a recent blog post.
The post shared some important advice about attending Halloween parties this year: "If you are headed to a Halloween party, your braces should be no problem at all—except for maybe that bobbing for apples game. But who wants to get in all that water anyway."
The post also discussed candy and trick-or-treating. They wanted to share that they understand that it is simply not Halloween without candy. That said, they want their braces wearers to know how important it is to choose treats wisely. Chocolate and soft candies are OK to eat, but there are some that should be avoided. Caramels, taffy, and other sticky candies may get stuck in the brackets, making it difficult to get teeth clean. Hard candies may also cause problems because they can unexpectedly damage braces.
If damage does occur, Columbia Orthodontics wants patients to follow some advice: "If you do somehow manage to damage your braces then be sure to call us so we can give you further instruction and possibly schedule an appointment to prevent any further damage."
Columbia Orthodontics wants to help improve the confidence of all of their patients and makes it well known that they will create a unique treatment plan for each new smile.