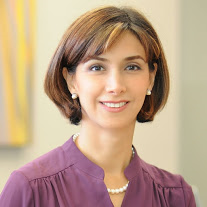 Cupertino, CA (PRWEB) February 17, 2015
Cupertino orthodontist, Dr. Setareh Mozafari, is now offering complimentary consultations for orthodontic treatment. Human ancestors had balanced bites that were designed to support healthy oral function. Over the years and with each successive generation, humans began to inherit teeth or jaw problems from their parents. One may have had a small jaw while the other had larger teeth, which resulted in crowding. An overdeveloped jaw and smaller teeth could result in crowding or gapping. Up to 70% of Americans could benefit from orthodontic treatment today.
About Dr. Setareh Mozafari, Expert in Invisalign Cupertino
Dr. Mozafari is a skilled Cupertino orthodontist. She received her DDS with honors from USC's School of Dentistry. She was in the top 10 of her class and was elected into the esteemed National Dental Honor Society Omicron Kappa Upsilon. She continued her advanced training at the Department of Orthodontics and Dentofacial Orthopedics at the Eastman Institute of Oral Health at the University of Rochester's School of Medicine and Dentistry, which is where she earned her post-doctoral certificate in Orthodontics and Dentofacial Orthopedics. Today, Dr. Mozafari is a board-certified orthodontist, a member of the American Association of Orthodontists, a member of the California Dental Association, and a diplomate of the American Board of Orthodontics.
Orthodontic Treatment
Orthodontic treatment can include traditional braces, invisible braces, clear aligners, or other treatments and procedures designed to guide the jaw's growth, correct the bite, or straighten teeth. Cupertino orthodontist, Dr. Mozafari, offers numerous orthodontic options, including:

Early age orthodontics, which is used in middle childhood to guide jaw development and growth
Adolescent, which may include braces or Invisalign
Adult
Surgical orthodontics treatment, which corrects major jaw or bite abnormalities
Invisalign, which uses clear aligners to straighten teeth
Retainers, which help keep teeth in their correct positions
The complimentary consultation allows patients to meet Dr. Mozafari, learn about their own treatment options, and find the best treatment for their needs. According to Dr. Mozafari's team, "We are always excited about meeting new patients! Your initial orthodontic examination in our office is complimentary, and generally takes about 30 minutes, but it is very personalized and patients find it very informative and interesting." Orthodontic treatment can be a great investment in long-term dental health and improved smile confidence.