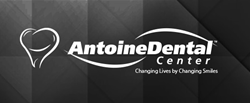 Houston, TX (PRWEB) December 05, 2016
Antoine Dental Center, orthodontic office in Houston, announces that it is now offering complimentary consultations for a full selection of advanced orthodontic treatments, including self-ligating braces, TADs, Propel Orthodontics, short-term braces, high speed braces, and multiple Invisalign options. Bite correction is one of the most important preventive treatments patients can choose to reduce their risks of tooth decay, gum disease, and other oral health problems. Invisalign, an increasingly popular type of braces, offers comfort and faster results in addition to discretion. The availability of multiple Invisalign options at Antoine Dental Center gives more patients the chance to have their teeth straightened without others noticing.
Invisalign is distinguished by its use of clear plastic aligners rather than metal brackets and wires. The aligners are customized to the individual and are dispensed in stages until completion, which takes an average of fifteen months for Invisalign Full. Many patients choose Invisalign for its low profile, but the treatment has also been praised for its comfort. The absence of brackets and wires means that even athletes and woodwind musicians can get braces without worrying about discomfort or inconvenience. Invisalign Teen makes this treatment possible for younger patients, and includes special features to accommodate growth and busy teen lifestyles. Invisalign Express is for mild bite irregularities, and takes just three to nine months for completion.
Metal braces and Invisalign are not the only options offered at this orthodontic center in Houston. Also available are lingual, ceramic, and self-ligating braces. Lingual braces, like traditional braces, use metal brackets and wires. However, lingual braces are put behind the teeth, where they are not visible from the outside of the mouth. Ceramic braces use metal wires but have ceramic brackets, which match the color of teeth and are less visible as a result. Self-ligating braces have smaller brackets that let the wire move freely, making treatment both more comfortable and faster.
Dr. Behzad Nazari, the founder of Antoine Dental Center, originally worked as a pharmacist after graduating from Texas Southern University before earning his DDS at University of Texas, Houston. Continuing education throughout his dental career has helped Dr. Nazari to consistently offer the latest techniques in his field. As a reputable member of several professional dental organizations, including the ADA, Dr. Nazari works hard to give his patients the highest level of care for their oral health and smile.