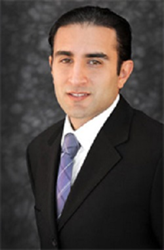 Los Angeles, CA (PRWEB) April 22, 2014
Los Angeles orthodontist, Dr. Allen Yaghoubzadeh, now offers a variety of orthodontic treatments to help straighten smiles. Orthodontics can be used in children to ensure proper development of the teeth and jaws while older patients can use them to enhance their appearance and improve their oral health. Many different treatment options are available to meet specific patient needs.
About Dr. Allen Yaghoubzadeh, Orthodontist, Los Angeles
Los Angeles Damon braces expert, Dr. Allen Yaghoubzadeh, is a native of Los Angeles. He attended the University of Southern California, from which he earned his undergraduate degree and his DDS. USC provided Dr. Yaghoubzadeh with experience in some of the most technologically advanced orthodontic treatments available today. He completed his orthodontic and orthopedic training at the University of Connecticut. While there, he completed advanced programs in craniofacial biology and earned a Master's degree, which enabled him to become an expert in aesthetic orthodontic treatments. His goal is to provide patients not just with a more attractive smile but also better oral function and enhanced dental health.
Teeth that fit together properly, or a proper bite, are better able to bite and chew, and the even distribution of bite forces results in less wear and tear on teeth. Orthodontics can eliminate gaps, properly space and rotate teeth and create a smile that is more functional and easier to clean. Dr. Yaghoubzadeh, Los Angeles ceramic braces expert, can help patients learn more about available orthodontic treatments so that they can find the best solutions for their needs. Dr. Yaghoubzadeh offers traditional braces, Invisalign, Invisalign teen, Invisalign express, clear braces, Damon braces, clear bracket braces, ceramic braces, ClearCorrect braces and lingual braces.
Orthodontic treatment provides not just a more attractive smile but a healthier smile. In some cases, treatment can be completed in about a year. More complex cases or severe bite abnormalities may require more time. Each orthodontic patient is provided with the personalized care they need to achieve the smile that they want. Personalized orthodontic care ensures the safest, most comfortable experience possible with attractive results. Patients of all ages can benefit from a wide range of treatment options. Orthodontics can be used alone or in conjunction with other treatments for a smile makeover.