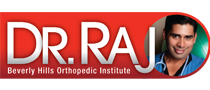 Dr. Raj is frequently interviewed by the top publications in the US including Men's Health, Shape, USA Today and Huffington Post!
Beverly Hills, California (PRWEB) May 13, 2015
Top Beverly Hills and Los Angeles orthopedic surgeon, Dr. Raj, was recently interviewed by the Huffington Post for an article on strength training benefits. As a specialist in sports medicine and joint replacement, Dr. Raj knows all too well the benefits of strength training and the medical conditions it can prevent.
The article, titled Strength to Power, was written by fitness expert Jenn Zerling (of JZ Fitness) and published May 11, 2015. It can be seen HERE. Jenn presented specific exercises for helping individuals develop strength, balance and power.
Dr. Raj stated:
"Strength is defined as one's ability to resist force — more particularly, one's ability to slow the progression of osteoporosis and other degenerative joint diseases as they age. While genetics should be considered, if you choose the right training program, then you can attain your highest strength potential, which will reduce the risk of falling, which causes fractures.
"Falls are one of the leading causes of death in people over the age of 65. With the appropriate training program in place, a person can improve strength, balance, flexibility, and power, which will ultimately decrease their risk of falling and preserve their overall strength as they get older."
All too often, Dr. Raj sees individuals with decreased bone mineral density due to lack of activity who sustain fractures due to falls. With proper strength training, balance can be optimized, and the incidence of falling will dramatically decrease. In turn, the incidence of hip, wrist and spinal fractures consequently goes down too.
For years, Dr. Raj has been interviewed frequently by the nation's top publications including USA Today, Shape Magazine, Men's Health and more. He is an ABC News Medical Correspondent and four years in a row been named a Top Doc Los Angeles orthopedic doctor!
At Beverly Hills Orthopedic Institute, most insurance is accepted and Dr. Raj is a top hip and knee replacement doctor in Los Angeles. He offers minimally invasive surgery, stem cell therapy, shoulder, hip and knee replacement as well.
The Institute phone number is 310.247.0466 and the website is http://drhipandknee.com