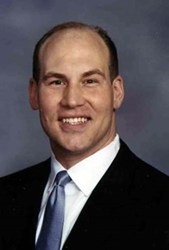 Houston patients treated in my practice are able to carefully consider their options and move forward with the most appropriate treatment.
Houston, TX (PRWEB) August 13, 2013
A research team at Vanderbilt University Medical Center recently published their results showing an effective non-surgical treatment program for rotator cuff tears. Houston's Dr. K. Mathew Warnock utilizes these cutting-edge techniques to treat his patients with rotator cuff tears. Dr. Warnock is a top choice for patients with rotator cuff tears who are seeking treatment.
The study looked at a range of patients with full-thickness rotator cuff tears and shoulder pain. With new physical therapy techniques, the researchers at Vanderbilt found that after six weeks of treatment, less than 10 percent of patients moved forward with surgery. Dr. Warnock, an orthopedic surgeon, also promotes non-operative treatment of rotator cuff tears. As an expert in his field, he regularly practices advanced therapies, maximizing his patients' ability to recover from injury without surgery.
"Surgery should be the last option to consider with most orthopedic injuries," said Dr. Warnock, a shoulder specialist. "Houston patients treated in my practice are able to carefully consider their options and move forward with the most appropriate treatment. I am glad to hear that there have been new studies that show the effectiveness of physical therapy. It is something that I use to treat my patients and help them avoid surgery."
Dr. Warnock's practice offers several options, including rotator cuff and arthroscopic shoulder surgery.
According to recent statistics published alongside the Vanderbilt results, at least 10 percent of all Americans over the age of 60 will develop a rotator cuff tear. People with manual labor professions are also likely to suffer a similar injury over the course of their lifetime. Most issues are caused by repetitive arm activities, such as throwing a ball overhead or lifting heavy weights. Damage can also occur if an individual falls. Any damage of the tendons that connect the arm bone with the shoulder blade is considered a rotator cuff injury.
The current treatments include physical therapy, steroid injections and surgery. Typically, 50 percent of rotator cuff injuries can be treated with non-surgical treatment such as physical therapy. For the other 50 percent of patients suffering from these injuries, arthroscopic surgery may be required. Dr. Warnock works closely with his patients to determine the best course of action for their specific needs.
"With some injuries to the shoulder and other joints, surgery is absolutely necessary," said Dr. Warnock. "In these cases, our practice carefully plans a surgery using cutting-edge techniques to minimize risk and expedite recovery. A well-planned surgery can also ensure that the individual regains their range of motion once the rotator cuff tendon has healed."
For more information about rotator cuff repair, Houston orthopedic surgeon K. Mathew Warnock, MD has resources on his website at warnockmd.com. Prospective patients can explore the full range of treatments and procedures offered at his practice by calling his office at (281) 807-4380 to set up an appointment. His practice is located at 18220 Texas 249 #330 in Houston, TX.
About Dr. K. Mathew Warnock, MD
Dr. K. Mathew Warnock has lived in Texas since he was a child. He attended Wichita Falls High School and graduated from Brigham Young University. He studied medicine and completed his residency at the University of Texas Health Science Center in Houston. Dr. Warnock completed a fellowship in shoulder and elbow surgery at Texas Orthopedic Hospital, and he is board certified as an Orthopedic Sports Medicine specialist. He has lived and traveled outside of the United States, and he enjoys treating patients of all backgrounds and cultures. Dr. Warnock speaks Spanish and Portuguese fluently.