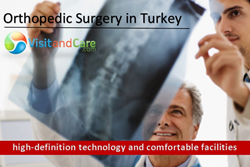 Our partnership with orthopedic provider's clinics in Turkey creates a platform for unequalled contributions to patient care and scientific advancements in musculoskeletal medicine.
New York City, NY (PRWEB) June 17, 2014
Earning exponential growth for their luxurious and affordable orthopedic surgical programs, partners of VisitandCare.com have seen a 60 percent increase in U.S. patients traveling to Turkey for orthopedic surgery over the past 3 years. The innovative surgical centers in Turkey are providing high-definition technology and comfortable facilities — putting them on the edge of the most significant advances in orthopedic surgery.
Advanced orthopedic surgery clinics in Turkey provide broad disciplines of adult reconstruction, joint replacement, spine, foot and ankle, hand surgery, trauma, sports medicine, pediatrics and more.
"Our partnership with orthopedic provider's clinics in Turkey creates a platform for unequalled contributions to patient care and scientific advancements in musculoskeletal medicine. We strive to offer affordable treatments, luxurious facilities and forthcoming doctors, to create revolutions in surgical care," stated Tolga Umar, CEO and Founder of VisitandCare.com.
Top Orthopedic Surgeons in the World —
Elite orthopedic specialists in Turkey's most exhilarating destination, Istanbul, combine surgical expertise with pioneering clinical and basic research — and are dedicated to providing advanced care as it is an invaluable component for successful surgical outcomes.
The surgical units in Turkey have witnessed a superb growth rate of U.S. patients in a full range of orthopedic surgical services, including knee replacement, hip replacement, torn meniscus repair, ACL reconstruction, hip resurfacing, and cervical disc herniation treatments.
The Orthopedics and Traumatology department of ROMOY Healthcare in Istanbul is providing quality services to its patients from all around the world with the most effective treatment methods. "With modern diagnosis techniques and state-of-the-art technology treatment equipment, the most successful treatment alternatives are provided for orthopedic patients who suffer from spinal diseases and traumas, and muscular and skeletal system," stated the ROMOY Healthcare Management Team.
State-of-the-Art Care for Musculoskeletal Disorders —
Combining orthopedic medicine and paramount surgical care, along with strong rehabilitation programs, Turkey is internationally renowned for exceptional care and innovative research. Furthermore, the orthopedic specialists in Istanbul understand the growing importance of hospital amenities.
These high-end touches — grounded on affordability — come at a time when the United States is scrambling with out-of-control health care costs. This indulgence not only inspires confidence in the quality of clinical care being offered throughout Turkey, but gives local and foreign patients a greater sense of peace for every financial circumstance.
State-of-the-art facilities provide the competence to offer musculoskeletal treatments and surgical interventions for the most perplexing cases. Exclusively available inside Turkey's most elite orthopedic hospitals, patients can cosset the across-the-board luxury features and the convenience of comfort and privacy — an undeniable appeal.
While the United States is expected to account for nearly 70 percent of the orthopedic market by 2020, Turkey's culturally accepting environment, appealing orthopedic facilities and competitively priced surgical treatments are creating a timely progression for the medical tourism industry.
About VisitandCare.com
VisitandCare.com was created to give individuals worldwide valued direction locating a doctor, obtain free medical treatment quotes, and uncover affordable medical treatments at destinations of their choice. Improving Patients Lives |The company provides access to exclusive doctors and hospitals who specialize in infertility, plastic surgery, cosmetic dentistry, laser eye surgery, orthopedic surgery, hair transplantation, weight loss surgery, heart surgery and cancer care. Patients are matched with devoted multilingual patient facilitators and provided tangible connections to doctors worldwide. Promoting Your Healthcare Brand | For the ultimate connection between the healthcare industry and patients worldwide, the company delivers an unrivaled commitment to create sustained value for medical partners. Contact VisitandCare.com to see if you are eligible to become a partner of the exclusive network.