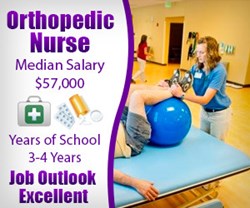 The average median salary for an orthopedic nurse is about $57,000 per year.
Columbus, OH (PRWEB) February 12, 2014
"The average median salary for an orthopedic nurse is about $57,000 per year. The lower 10 percent, however, earn around $46,240 per year and the highest 10 percent earn about $81,000 per year," says Elizabeth F. Hansen, editor of Nursing100.com.
"Where you work will greatly impact your earning power. For example, if you are working for a nationally recognized hospital system, you will command a higher salary than if you were to work for a smaller rural or suburban hospital. Other factors to take into consideration include your individual level of experience, how much education you have and the area of the country that you will be working in," adds Hansen.
As an authority for anyone wanting to learn more about the details of specific nursing specialties, Nursing100.com caters to persons who are thinking of getting into the nursing career, and may want to look up salary statistics first to see if the job will meet their financial needs.
Primary among the target audience is the Orthopedic Nurse, whose salary data is the most sought after. Not only does this specialty area of the nursing profession is more financially rewarding, but these nurses are find it the more rewarding as it relates to career move or choice of nursing specialty.
"We hope this the latest information will provide all the pertinent information as it relates to the Orthopedic nurses' salary, job description, education, certification and licensing, job outlook, and links and resources," says Elizabeth Hansen.
Orthopedic nursing, started during the Victorian times due to the matriarch, has turned out to be one of the most sought after specialty area nurses are going after today, according to Hansen, Editor of the website.
The first hospital in the United States that focused on the field of orthopaedics, a sub-nursing specialty started Dame Agnus Hunt in the 1800's, in New York, was the Hospital for Ruptured and Crippled Children.
"This is where orthopedic nursing was born, and later in the century, nurses and physicians began to better understand the growth and development of bone and the functions of the different muscles throughout the body," notes Hansen.
Orthopedic nursing, which took off in the last few years due to many hospitals opening orthopedic and rehabilitation units, covers all aspects of orthopedic care and rehabilitation.
"Most work with total healthcare teams to prepare patients for discharge," says Editor Hansen.
For further information regarding Orthopedic Nurse Salary, visit Nursing100.com
Author Bio
JC McClain is the senior editor for Nursing100.com.