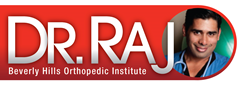 Minimally invasive shoulder surgery at Beverly Hills Orthopedic Institute allows for faster pain relief and quicker rehabilitation after the procedures!
Los Angeles, CA (PRWEB) February 26, 2014
One of the top orthopedic surgeons in Los Angeles and Beverly Hills, Dr. Raj, is now offering minimally invasive shoulder surgery. The latest techniques allow most shoulder conditions to be treated with minimal blood loss and reduced recovery time. For more information and scheduling call 310.247.0466 .
Traditional surgery for labral tears of the shoulder and rotator cuff tears can mean six months or more of rehabilitation while the surrounding tissues heal from large incisions. With the latest cutting edge, minimally invasive techniques, Dr. Raj is able to utilize afiber-optic camera and arthroscopically repair most shoulder injuries.
Dr. Raj is a Double Board Certified Beverly Hills orthopedic surgeon and treats both amateur and professional athletes, along with celebrities, executives, students and manual laborers. Even grandparents often receive excellent benefit from the minimally invasive techniques utilized at the Beverly Hills Orthopedic Institute.
Along with the minimally invasive arthroscopic procedures, Dr. Raj has also been a pioneer in regenerative medicine therapy including stem cell injections and platelet rich plasma therapy. He is also an expert joint replacement surgeon as well as having performed hundreds of successful ACL reconstructions.
Dr. Raj is a correspondent for ABC News as well as WebMD, and makes frequent appearances on radio and television due to his expertise in fitness and sports medicine, along with joint replacement.
Most insurance is accepted at the practice, call for more information and scheduling with the shoulder surgeon Los Angeles trusts at 310.247.0466.