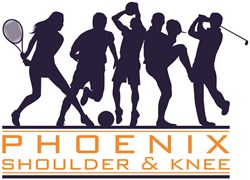 Dr. Farber offers state-of-the-art, minimally invasive rotator cuff surgeries done with a fiber optic camera and minimal blood loss!
Phoenix, AZ (PRWEB) November 13, 2013
Dr. Adam Farber, a top orthopedic surgeon Phoenix, AZ respects, is now offering minimally invasive arthroscopic surgery for rotator cuff repairs. The shoulder surgery is performed on an outpatient basis and involves minimal blood loss with excellent outcomes. For more information and scheduling, call 480-219-3342 for an appointment.
Shoulder pain due to a rotator cuff condition such as a tear or tendonitis affects tens of millions of Americans. Unfortunately, a select few will fail all attempts at conservative treatments and need the services of a shoulder surgeon in Phoenix. As a Board Certified, Fellowship Trained Phoenix sports medicine doctor, Dr. Farber is a premier shoulder doctor in Phoenix.
The minimally invasive method that Dr. Farber at Phoenix Shoulder and Knee utilizes entails minimal blood loss and the least amount of recovery time necessary. It has been a remarkable advancement in shoulder surgery, with the doctor being able to see throughout the joint with a tiny fiberoptic camera. Even significant size rotator cuff tears are able to be repaired completely arthroscopically with the latest state-of-the-art methods that Dr. Farber uses.
At Phoenix Shoulder and Knee, Dr. Farber offers cutting edge treatments for shoulder, knee and elbow disorders. He offers first rate ACL reconstructions along with arthroscopy of both the knee and elbow for minimally invasive pain relieving procedures.
One of the latest treatments being offered is platelet rich plasma therapy, also known as PRP therapy for short. The treatment uses one's own blood, processes it, and then places it near an area of arthritis or soft tissue injury to stimulate healing. PRP contains concentrated platelets, growth factors and also calls in stem cells for help with repair. For PRP therapy Phoenix trusts, there is no one better than Dr. Farber.
Dr. Farber serves as a team doctor for the Los Angeles Angels Spring Training team and several local high schools. Appointments are readily available at the office and most insurance is accepted. Call 480-219-3342 for an appointment.