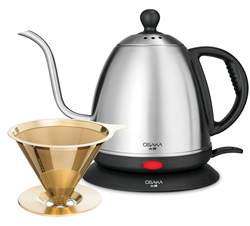 The kit includes every necessity for a perfectly brewed coffee.
(PRWEB) December 13, 2016
Osaka's belief is that everybody deserves good coffee. Furthermore, in order to get good coffee the right equipment is necessary. Our mission was to manufacture quality coffee gear for affordable pricing. For the holidays, Osaka created a special bundle and marked it down to an incredibly affordable $49.99.
The kit includes every necessity for a perfectly brewed coffee. The gold covered titanium filter ensures maximum extraction without trapping any essential oils. The Electric Gooseneck Kettle heats up water to boiling in just a couple of minutes, giving the user full control when pouring so there's no risk of burns or over extracting the coffee. Osaka Coffee provides step by step guides and tips with all products, as well as lots of helpful information on the website to help newcomers to pour-over coffee, find their way.
What better way to get Osaka's message across than to team up with one of the most commonly known faces on TV, Kevin Harrington? Together with asseenontv.pro, Osaka hopes to be able to continue providing premium coffee gear at affordable pricing.
Please watch the 60 second spot to see for yourself.
Watch Here
About Osaka Coffee
Osaka is a large city on the Japanese island of Honshu. It's known for modern architecture, boisterous nightlife, and delicious coffee shops. Inspired by the rich aromas and unique brewing techniques, Osaka Coffee was born. The products are carefully designed to give the consumer the ultimate coffee experience. With sleek and attractive displays, Osaka will perform better than anything else. If one is not yet in love with the process of coffee-making, be prepared to be infatuated.
With Osaka, it is always so much more than design; it is about finding the perfect balance between aesthetics and performance. Since 2013, Osaka's product line has been continuously expanding. However, Osaka's coffee-enthusiastic designers are developing, tasting, and testing many more products and designs that to make available to the coffee consumer in the coming years. Osaka's goal is to continue to bring beautiful, quality coffee brewers.
Osaka Coffee's Mission
At Osaka, the belief of what is called the "third wave of coffee" is strong. It is essentially the belief that coffee is not just a drink or a commodity; it is a specialty. Much like wine, the flavors are nuanced and vary greatly. In order to fully enjoy coffee, it is not just the source of the beans or the method of roasting. If brewed incorrectly, the results will not be satisfactory. With Osaka's brewers, guides, and tips, one can learn to really enjoy a cup of coffee brewed perfectly.
About Kevin Harrington's team at asseenontv.pro.
AsSeenOnTV.pro is comprised of an award-winning team of producers, writers, videographers, and editors as well as industry veterans dedicated to finding the latest, most innovative products and ideas, and putting them on the DRTV map.