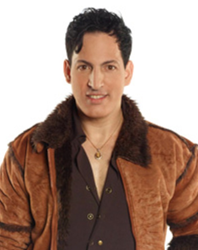 You have a very refined way of constructing garments that makes them look very expensive
Miami, FL (PRWEB) March 05, 2014
For those of us that have been watching Project Runway since it first aired in 2004, the latest version of the show, "Under the Gunn," is truly a breath of fresh air. Although Heidi Klum's "auf Wiedersehen" is definitely missed by all, Tim Gunn's fierceness is heating things up, challenging the competitors or designers [as he lovingly refers to the contestants] and pushing them to their limits with each creation. In this season, one designer's story is certainly compelling, and from his performance so far, it seems as if he was quite ready to take on the challenge head on. His name is Oscar Lopez, a Cuban immigrant and self-taught designer who has made a name in South Florida as a fashion expert when it comes to creating lavish gowns for society ladies. "In the last couple of years I have enjoyed designing for some of South Florida's most glamorous socialites, but now I feel I am ready to spread my wings, and show the world what I have to offer," commented Oscar in a recent interview.
The fact is that he is no stranger to challenges. It was only nine years ago that the talented designer was able to reach the United States after two earlier attempts to flee his homeland. "For many years, I had the urge to escape Castro's regime that has taken over my country, but there were always complications. Finally in 2000 I was able to leave Cuba via Mexico, as part of a musical performing group. I lived there for four years and in 2004 I crossed the border into the United States, looking to reunite myself with family members and embark on the path to realize my dream." Once in Miami, he set out to make his dream a reality… one dress at a time. It seem like his destiny had already been crafted from the early age of 10, when he began to experiment with sewing and making patterns on his own. This self-taught little boy created his first dress when he was 11-year-old, using his mother's curtains because of their lack of means, and the scarcity of products in the island, didn't allow him to purchase new materials for his creations. "I remember sharpening my needles with nail files and candle wax because resources were scarce and I was only able to replace them when family members or friends would visit not only from the United States but from the European community as well . It was tedious process but I was determined and didn't mind the effort," remembers Oscar.
Before joining the show, Oscar had already started to navigate the competitive world of fashion design while building a loyal clientele that spans from South Beach socialites to Palm Beach and New York high-society ladies. From the first episode, his talent was eminent, and Oscar started to receive compliments from judges, very early on, every time he presented a new creation. They have called his designs flattering, sexy and fierce, praised his outstanding construction, and even has gone as far as saying that many of his gowns have the red-carpet "wow" that celebrities would kill for.
Renown costume designer and stylist Jen Rade, a judge on the show, has coined what could not have been worded better about Oscar's latest challenge creation "Fabulous and light years above and beyond everything else she has seen on the runway". Co-judge and Senior Fashion Editor at Marie Claire USA, Zanna Roberts Rassi has also pointed the one of his designing aptitudes — "You have a very refined way of constructing garments that makes them look very expensive". But all this success has not gone to his head, even when in episode six, the "Pompeii Team Challenge," he was named the individual winner of the challenge, taking home a $5,000 prize. Oscar's look on episode 6, was described on ThreadsMagazine.com as "wearable, unique, and sewn impeccably." Those that have had the privilege of working with him backstage can attest to his humble nature, helping out his opponents when he has time in his hands after finishing a project way before everyone else, and in the words of his mentor during the show, Nick Verreos, even cleaning out his space and sweeping the workroom floor. "I am certainly enjoying the show and all the glory, but most importantly, I am loving the opportunity to share my passion with a much larger audience, this has always been my ultimate dream and it is now a reality". There is no doubt that Oscar will continue to surprise the world with his charming personality, great demeanor, proven creativity, and amazing sense of style. Way to go Oscar!