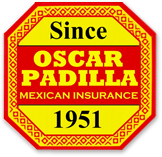 The law in Mexico is based on the Napoleonic Code, where guilt prevails over the presumption of innocence, whereas in the U.S., the law is based on the English Common Law, where innocence prevails over the presumption of guilt
Calexico, CA (PRWEB) March 31, 2015
Oscar Padilla Mexican Insurance, the largest and oldest provider of Mexican insurance in the United States, has just announced some excellent new insurance packages on the company website, MexicanInsurance.com. Specifically, the new outstanding insurance services cover Mexican insurance, Mexican car insurance, Mexican auto insurance and other related insurance services.
As a company spokesperson noted, Oscar Padilla Mexican Insurance has prided itself on offering the best Mexican insurance ever since Oscar Padilla himself started the company back in 1951. Since then, the company has earned a well-deserved reputation for its full-service Mexican insurance policies and commitment to customer service.
While some travelers may believe that their own insurance policy will cover them when they travel to Mexico, the company spokesperson said this is typically not the case. While the traffic laws are similar in both countries, the way the laws are applied to drivers is significantly different. As it explains on this page, to be sure they and their loved ones are properly covered, people should consider taking out a travel policy from Oscar Padilla Mexican Insurance Services.
"The law in Mexico is based on the Napoleonic Code, where guilt prevails over the presumption of innocence, whereas in the U.S., the law is based on the English Common Law, where innocence prevails over the presumption of guilt," the spokesperson explained, adding that the basic difference between Mexico's and the United States' financial responsibility law is that anyone involved in an accident in Mexico must have the means to respond to damages or injuries for which they may be responsible.
"In Mexico, this would be in the form of either cash or a Mexico auto insurance policy."
In order to help educate people as much as possible about the need for Mexican insurance, the company's website also features helpful articles that explain if U.S. insurance will ever cover travelers to Mexico, what is typically covered on a Mexican insurance policy, and what its approximate cost may be. People who wish to get a free Mexican insurance quote may do so right through the user-friendly website; they simply need to enter in some basic vehicle information and how often they plan to be in Mexico and the website will quickly provide them with a quote.
About Oscar Padilla Mexican Insurance:
Oscar Padilla Mexican Insurance is the largest and oldest provider of Mexican insurance in the United States. People who are planning on traveling to Mexico can learn more about their insurance options and see excellent rates at https://www.mexicaninsurance.com.