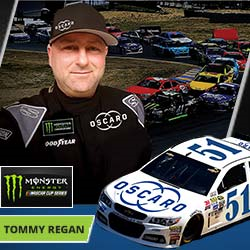 I have put everything on the line to be all I can be. Why not be the best?
San Jose, California (PRWEB) April 19, 2017
On June 25, 2017, the 39-year-old NASCAR driver Tommy Regan will race, against 39 of the best stock car drivers in the world, on the uniquely technical 2.52-mile Sonoma Raceway. Regan's primetime debut comes after nearly two decades of hard work and perseverance.
Born in Pleasanton, California, not far from the Sonoma Raceway, Regan will be returning to his home turf to kick off the next chapter in his NASCAR career and fulfill his lifelong dream of driving in a NASCAR Cup Series race. Teaming up with Rick Ware Racing team and renowned NASCAR trainers BJ McLeod and Adam Brooks, Regan is determined to make an entrance.
Seventeen years ago, Regan made the commitment to start climbing the NASCAR ladder and vowed not to stop until he made it all the way to the top. One step at a time, with hard work, difficult set-backs, and a passion for racing that trumps everything, Regan progressed from weekly local late model racing, through the K&N Pro and Camping World Truck Series, to finally reach the Monster Energy Cup Series.
This dedication resonated with Pierre-Noel Luiggi, entrepreneur and successful founder of Oscaro. Oscaro, the leading online retailer for aftermarket and OEM auto parts, is a company whose story shares the same humble beginnings, perseverance, and values. From the small Mediterranean island of Corsica, Luiggi built the largest online auto parts retail business in Europe and is expanding rapidly worldwide. The Oscaro USA team, on the date of this release, celebrates 4 years of serving customers through their website, OscaroParts.com.
This joint commitment to fueling human passion finds itself in both men's vocabulary. When Pierre-Noel Luiggi claims that "Passion changes everything," Tommy Regan echoes, "I have put everything on the line to be all I can be. Why not be the best?"
Keep an eye on Tommy Regan, he's the next biggest NASCAR driver you never saw coming.
###
About Oscaro:
Oscaro is the leading automotive online retailer satisfying millions of customers worldwide. Oscaro combines exceptional customer support with a rich catalog with over 1 million OE quality parts from premium parts manufacturers. Founded in 2001, Oscaro has since grown into a multinational company with close to 1,000 employees.
Team Oscaro, whose motto is "Passion Changes Everything" sponsors a NASCAR team, a League One soccer team, a professional cycling team competing in the upcoming Tour de France, and a World Tour Rally team.
The Oscaro USA headquarters are in San Jose, California. For more information, please visit http://www.OscaroParts.com or call 1-855-8-OSCARO.
About Regan Motorsports:
Tommy Regan, a professional NASCAR driver from Pleasanton, California, owns and manages Regan Motorsports, best known for its reality TV series documenting Regan's Camping World Truck vigorous training program.
Regan successfully competed in over 50 races in the NASCAR K&N and Camping World Truck series and will be making his primetime debut in the NASCAR Cup Series at the Sonoma Raceway on June 25th, 2017.
Regan has mastered challenging courses including Sonoma Raceway, Laguna Seca, Buttonwillow Raceway Park, and Thunder Hill Raceway and is best known for his outstanding on-track awareness, fuel conservation and turn management.
For more information, please visit http://www.tommyregan.com.
###
Related Links:
NASCAR Fan Contest: VIP Race Weekend Trip Getaway
Follow Oscaro on Facebook