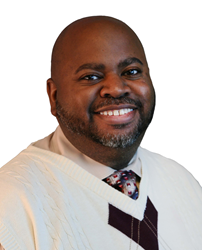 Brian has been a significant presence at OSC and we thank him for his commitment to serving our clients and serving our country with great honor. Tracey Carragher, CEO, Breckenridge Insurance Group
Atlanta, GA (PRWEB) May 16, 2017
OSC, an established lender-placed insurance and tracking company and part of Breckenridge Insurance Group, announces Brian Reid, director of Escrow & Call Center Operations, was a recent international finalist for an inContact Contact Center Leader of the Year 6th annual Mojo Award. This Mojo award recognizes the "contact center leader whose achievements and passion infuse his or her workforce and who implements new ideas that significantly improve contact center operations."
"Brian's leadership of our complex call center operations and his overall collaborative approach are admired within OSC. To have his hard work recognized by the worldwide leading provider of technology in this space across all industries, is a huge endorsement of his contributions to our team and the clients we serve," stated Keith Gilroy, president of OSC.
As noted by inContact judges, Reid was chosen as a finalist as he "diligently guided each new phase of OSC's contact center transformation. He not only implemented inContact, he created a new training program for his agents, improved service level agreements (SLA's) and reduced turnover. Agents now have visibility into their performance, collaboration with their team members and the tools they need to deliver excellent service."
Reid was among three finalists for this award among those nominated. He has more than 15 years of call center experience in the mortgage banking and insurance sector having worked for select major banks and service providers. Previously, he spent nearly ten years in the Air Force last as a Noncommissioned Officer in Charge, 607th Air Support Squadron Information Management in the United States Air Force last stationed at the Osan Air Base in the Republic of Korea.
"Brian has been a significant presence at OSC and we thank him for his commitment to serving our OSC clients and serving our country with great honor. I couldn't be more proud to have his efforts recognized on this international stage," added Tracey Carragher, CEO of Breckenridge Insurance Group.
About OSC:
OSC is a leading and longstanding financial risk management, compliance and tracking technology provider of lender-placed and specialty insurance products from a range of top-rated carriers. OSC's proprietary IrisX tracking technology is designed to meet the complex compliance and multi-collateral tracking demands of the 21st century residential and commercial lenders, mortgage servicers and property investors. Full outsourcing capabilities include document management and processing, bilingual call center services, and tax, flood and escrow integration. For more information, please visit http://www.oscis.com or call 800.432.1258.
About Breckenridge Insurance Group:
Breckenridge Insurance Group, headquartered in Atlanta, Ga., is an international specialty wholesale insurance broker, program manager, managing general agent (MGA) and insurance services provider. The company offers access to diverse range of commercial insurance and financial services products to businesses and professional services firms in a variety of industries. The company serves independent insurance agents, brokers, and legal and financial institutions throughout North America by way of Blue River Underwriters, OSC, Breckenridge Insurance Services, Breckenridge Elevation Authorities contract binding group and InSpecialty innovative insurance solutions. For more information, please visit http://www.breckgrp.com or call 855.728.8822. CA Insurance License #0G13592