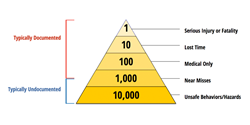 (PRWEB) August 20, 2015
Recently, OSHA conducted an inspection at a chemical manufacturing facility in La Porte, Texas, after four workers died from toxic chemical exposure from the unexpected release of 20,000 lbs. of the deadly chemical methyl mercaptan (methanethiol). The company was fined by OSHA for numerous violations and for failing to abate known hazards: "...these four preventable workplace deaths and the very serious hazards we uncovered at this facility are evidence of a failed safety program," said Assistant Secretary of Labor for Occupational Safety and Health Dr. David Michaels. (from OSHA's Regional News Release, 7/09/2015).
These violations may have been prevented if the organization had implemented an effective safety program. A crucial part of a safety program is addressing at-risk behaviors, hazards, and root causes, which can help prevent incidents from occurring. For any single fatality, there are thousands of near misses and at-risk behaviors that contribute to incidents. This concept is represented by the Safety Pyramid.
As illustrated in the Safety Pyramid, for every ten thousand unsafe behaviors and hazards that are observed, there will likely be one serious injury or fatality. These recurring near misses and unsafe behaviors reveal the potential problems within an organization that must be addressed. If they go uncorrected, they will eventually lead to more serious incidents.
Succeed Management Solutions, LLC embraces the Safety Pyramid and uses it to encourage their clients to develop a comprehensive safety program to address root causes and at-risk behaviors. The Safety Pyramid illustrates Succeed's approach to safety and reinforces their company motto: "Passion to Prevent." They use it as an important teaching tool to stress the importance of identifying and documenting incidents to help save lives and prevent OSHA-recordable incidents.
The Safety Pyramid is an important conceptual framework that can be used by health, safety, and risk managers to educate both company leadership and employees about the inherent risks in the workplace. And importantly, it can provide the foundation to build an effective employee safety training program and a resilient hazard communication protocol.
About Succeed Management Solutions, LLC
Succeed is the recognized leader in providing web-based Enterprise Risk Management solutions. Thousands of organizations use the Succeed Risk Management Center as a holistic solution to improve their risk management programs, implement web-accessible employee safety training programs, increase efficiencies, and lower the frequency and severity of claims and associated costs.
The Succeed Risk Management Center contains a suite of software applications that help manage claims and OSHA reporting (Incident Track®), behavior-based safety programs (BBS Track®), hazard communication and Safety Data Sheets (SDS Track®), Return to Work programs (Job Description Track®), employee training (Training Track™), and third party insurance compliance (COI Track®). Succeed also offers support services, such as managing Certificates of Insurance, Safety Data Sheets, and creating custom training courses.
Succeed also writes a blog that contains safety tips, toolbox talks, training shorts, and more.