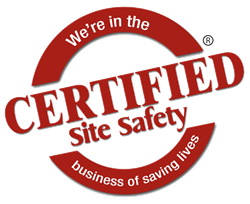 (PRWEB) May 23, 2016
Certified Site Safety of NY LLC is pleased to announce that the International Association for Continuing Education and Training (IACET) has awarded Certified Site Safety of NY, LLC the prestigious Accredited Provider designation. IACET Accredited Providers are the only organizations approved to offer IACET Continuing Education Units (CEUs). The accreditation period extends for five years, and includes all programs offered or created during that site.
This accreditation shows Certified Site Safety's commitment to providing continuation education and safety training at the highest level. We're pleased that our training and safety education programs, which are presented to thousands of individuals each year are having a positive impact on people's lives. Our programs are designed to provide the most comprehensive training possible on the market to help individuals and businesses meet federal, state and local laws and rules regarding workplace safety.
"As the old adage goes 'Knowledge is Power' and we are firm believers in this statement. By providing safety education to professionals we're pleased to know that we're helping people in the work place avoid injuries or worse by helping to provide a safer work environment for everyone involved," says Denise Groneman, Executive Vice President.
Becoming an Accredited Provider requires the completion of a rigorous application process, including an onsite review by an IACET accreditor, and successfully demonstrating adherence to the guidelines of IACET.
Certified Site Safety of NY, LLC specializes in providing education and training services focused around meeting OSHA requirements in the New York area as well as providing a wide variety of other safety classes for topics such as CPR and Fire Safety.
In addition to the exciting news of Certified Site Safety of NYC LLC's accreditation we have also recently launched a revamped mobile/responsive website with the added functionality of online registration so now signing up for training classes is easier than ever.
About Certified Site Safety:
Certified Site Safety of NY, LLC is a Certified Women Business & Disadvantaged Business Enterprise. Our mission is to provide the proper training to each and every attendee of our classes and reduce work place incidents and business liability. Through our comprehensive training, attendees will learn the best practices for performing a job to the upmost quality without risking the safety and lives of themselves and those working around them. Our courses are regularly updated to ensure that educational material and teaching methods are up to date with all applicable laws and regulations. To learn more, please visit: http://www.certifiedsitesafety.com or call: 914-437-5454.
##