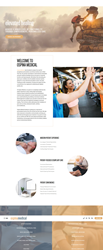 We take great care to ensure that every patient understands their specific problem, all the treatment options available, and most importantly, how to get back to living a healthier and active lifestyle, says Dr. Maniam
NEW YORK (PRWEB) March 05, 2020
Prominent Ivy-League trained physicians, Dr. Matthew Kohler and Dr. Rajivan Maniam are the founders of Ospina Medical. The practice is located at 635 Madison Avenue in Midtown Manhattan, and delivers exceptional patient-centric care, using innovative procedural techniques to treat acute and chronic pain conditions. Ospina Medical is dedicated to providing seamless patient bookings, minimal wait times, and personalized treatment plans to streamline the patient experience.
Ospina Medical realizes the importance of a healing and calming environment for patients to receive their care. Patients suffering from pain in the greater New York area have predominately been limited to antiquated offices with long wait times and high patient volumes. The physicians at Ospina Medical have redesigned the patient experience to not only optimize treatment but to do so in a personalized and comprehensive manner. From the newly renovated waiting area to the modern office-based surgical suite, Ospina Medical offers all the comforts of a high-end wellness center paired with a tech-forward medical facility.
In addition to their revitalized medical space, Ospina Medical is also taking an innovative approach to how patients are evaluated and treated for their conditions. By utilizing a functional medicine-based approach, the physicians at Ospina Medical focus on addressing the root cause of the problem rather than masking symptoms with potentially harmful medications. When this approach is combined with appropriate interventional and regenerative medicine procedures, we are able to achieve functional improvement as well as overall patient well-being. Ospina Medical prides itself on offering evidence-based techniques that are both safe and effective. The practice offers a variety of treatment options including regenerative medicine, functional medicine, IV infusions and nutraceuticals, medical marijuana, neuromodulation, sports medicine therapies and venous procedures.
"The goal at Ospina Medical is to the change the narrative on how painful conditions are managed. We want to offer our patients best in class medical care in a comforting, healing environment. At Ospina Medical, we believe treating pain is more than just a simple injection or medication script. We take great care to ensure that every patient understands their specific problem, all the treatment options available, and most importantly, how to get back to living a healthier and active lifestyle," says Dr. Maniam.
"We are privileged to be in a position to provide patients with advanced options for pain management and functional restoration that have yet to be integrated into other facilities in New York," adds Dr. Kohler. "Our primary focus is to offer the highest level of care to each and every patient by implementing a wellness-based platform in tandem with a comprehensive suite of minimally invasive treatment modalities, including an evidence-based regenerative medicine program."
More about the Physicians at Ospina Medical:
Dr. Matthew Kohler has been an influential leader in the field of interventional pain medicine and regenerative medicine. He completed both his residency in Anesthesiology and fellowship in Pain Medicine at Columbia University Medical Center. He is double board-certified in Anesthesiology and Pain Medicine through the American Board of Anesthesiology and has completed more advanced sub-specialty training in musculoskeletal ultrasonography and regenerative medicine through the Interventional Orthopedics Foundation.
Dr. Rajivan Maniam is one of Manhattan's leading regenerative medicine and interventional pain physicians. He completed his anesthesiology residency at Columbia University Medical Center and his interventional pain fellowship at Harvard Medical School's Brigham and Women's Hospital. He is double board-certified in anesthesiology and pain medicine through the American Board of Anesthesiology. Dr. Maniam has completed additional advanced training in regenerative medicine procedures through the Interventional Orthopedic Foundation and functional medicine training through the Institute for Functional Medicine.
To explore advanced treatment options for acute or chronic pain, please contact Ospina Medical at (212)-715-0888, or visit http://www.ospinamedical.com for more information or to schedule a consultation.