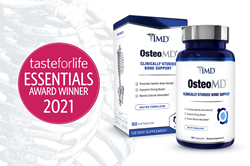 We're excited to be acknowledged for this clinically effective product that our customers love and that actually makes a difference, said Ziv Haklili, CoFounder of Scale.
SHERMAN OAKS, Calif. (PRWEB) June 17, 2021
1MD®, a Scale Media nutrition brand and developer of physician-formulated health products, announces their bone health supplement, OsteoMD® is Taste for Life's '2021 Women's Essential Award Winner' for best bone support. 1MD also announces they have reformulated OsteoMD to include the clinically studied recommended daily dose of calcium in direct response to the growing demand from their large customer base.
The Women's Essentials Award is Taste of Life's annual selection of essential products in the natural wellness industry that are designed with women in mind and help the body reap benefits more efficiently. The OsteoMD bone health supplement, which is part of 1MD's portfolio of over 20 health supplement products, was recognized for delivering clinically researched, highly bioavailable nutrients, such as D3 and K2, that work synergistically to support bone health. 1MD OsteoMD is physician-formulated by Dr. Adam Kreitenberg, who is dual board-certified in rheumatology and internal medicine.
"We're excited to be acknowledged for this clinically effective product that our customers love and that actually makes a difference," said Ziv Haklili, CoFounder of Scale. "The combination of vitamin D3 required for normal calcium absorption and the clinically-studied dosage of bioactive calcium hydroxyapatite works synergistically to enhance bone mineralization, which is linked to reduced risk of osteoporosis."
After years of clinical research and extensive reviews of the latest scientific data, OsteoMD was formulated with four synergistic ingredients and are validated by scientific significance, statistical data, and positive indications for bone health. The core ingredients are:

MenaQ7, a patented form of vitamin K2
Vitamin D3
Calcium hydroxyapatite, an easily absorbable, naturally-occurring, whole mineral form of calcium
Calzbone, an FDA-approved and patented form of Cissus quadrangularis, an ancient natural spectrum plant botanical, clinically proven to support bone mineral density and fracture healing
"We worked to create one of the most advanced bone health supplements on the market, by combining these four bioavailable nutrients," said Dr. Kreitenberg. "I recommend OsteoMD to anyone looking to build and maintain strong healthy bones, promote skeletal strength, and improve their overall bone health."
Launched in 2020, OsteoMD has emerged as a leading bone health supplement, helping thousands of American men and women regain healthy bone function.
"Approximately one in two women over age 50 will break a bone because of osteoporosis. Our mission in formulating OsteoMD was to create the single most effective bone health supplement on the market today," added Jen Fontaine, 1MD Brand Manager. "We're so thrilled to see reputable voices in the Health industry, such as Taste for Life, recognize the value and benefits of this product and help introduce this product to even more women."
To learn more about 1MD, visit 1md.org.
About 1MD:
1MD Nutrition is one of five next-generation consumer lifestyle brands powered by Scale Media, an award-winning, tech-driven company in the beauty, health and wellness sector. Their mission is to develop therapeutic, clinical-strength, physician-formulated health supplements that address America's gravest health concerns. 1MD's growing portfolio of 20+ clinically-studied products helps hundreds of thousands of people live happier, healthier lives. Learn more at 1md.org.
Scale Media Inquiries: Nicole Khandhar, Head of Operations, Scale Media, nicole.k@scale.tech
1MD Media Inquiries: Jennifer Fontaine, Creative Brand Manager, 1MD, jen.f@scale.tech