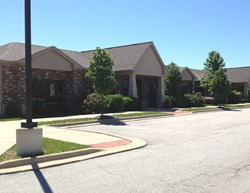 Oswego, IL (PRWEB) November 27, 2013
Mason Square, a planned office development site in Oswego IL., has 4 Newly built Office Condos and 6 undeveloped land sites that will be up for auction by real estate auction firm Micoley.com. Bids can be placed online now until the auction event on Saturday December 14, 2013.
Oswego is a charming small town along the Fox River just 50 miles Southwest of Chicago. It is well situated at the southern end of the Fox River Valley in Kendall County, Illinois. This growing community has small town character and it remains a great place to raise a family.
This prime business development includes a total of 10 condominium buildings, of which only four have been constructed. The 6 available condo pad land sites are approximately 25,308 square feet and are each approved for a 4,800 square foot office building. The site area is currently graded soil for future completion. List price is $99,500 with an Opening Bid of $52,500 for all 6 office pads together.
"Each of these properties are a great purchase for anyone looking to open a business or relocate at a very reasonable cost. They are in very good condition and have plenty of parking", according to Wade T. Micoley, President of Micoley.com. "The office buildings and land are located in a growing area near residential subdivisions, restaurants and shopping!"
One of the featured properties includes:
1022 Douglas Road
A spacious 6,600 square foot brick and stone constructed office condo. Built in 2008, the building is versatile and is located near numerous retail, restaurant and shopping options. This single-tenant building consists of 4,800 square foot office space plus 1,800 square foot garage space. Features include a vestibule, lobby, reception area, full kitchen, IT room, conference room, 2 restrooms, 3 fireplaces, and 7 private offices. List price is $745,000 with an Opening Bid of $395,000.
For a full detailed listing of these buildings and land including photos, details and additional information on how to register and place a bid visit http://www.micoley.com. Online bidding is scheduled for Saturday, December 14, 11:00 a.m. - 2:00 p.m. CST. Interested buyers are not required to be on site, as all bidding will take place online.
It is highly recommended that all bidders conduct their due diligence of obtaining all property Information, and visiting the property in person, if possible. For those new to the auction process, Micoley.com's fully trained staff of Auction Professionals are available to answer all questions. Visit Micoley.com to "live chat" with an Auction Professional or call 1-866-371-3619.
Micoley.com, located in Green Bay, WI, is a Real Estate marketing firm specializing in bank owned properties throughout the United States. Their unique approach to Real Estate sales is executed through customized marketing programs and project focused auction plans, customized for each of their unique clients. Be sure to visit their website for further Auctions and Sales Event information, as properties are added daily. Firm: Micoley.com LLC #481.011994; Broker: Bob Stone #471.01845.