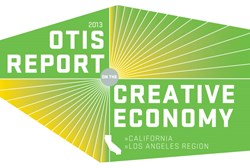 California is home to virtually all artistic disciplines and a focal point for innovation in many creative industries.
Los Angeles, CA (PRWEB) January 27, 2014
Otis College of Art and Design will present an in-depth analysis of how the creative sectors contribute to the state of California's economy in a presentation and networking event to be held Thursday, February 6, 2014 at the Broad Stage in Santa Monica, CA, from 3-6PM.
With lead support from the California Arts Council, the seventh annual edition of the influential Otis Report on the Creative Economy of the Los Angeles Region expands to include research on the entire state of California. The report will show the economic impact of jobs in the arts, design, education, entertainment, nonprofit, and independent creative professions. The report will also provide a forecast for the next five years.
"California is home to virtually all artistic disciplines and a focal point for innovation in many creative industries," explains Otis President Samuel Hoi. "Documenting the size and role of the creative economy both statewide and regionally, the expanded Otis Report aims to increase awareness and support of the diverse industries and creatives that comprise the creative economy, to inspire comparable analytical tools, and ultimately, to help stimulate innovation, create jobs, and provide social and cultural benefits, by way of arts education and creative professions."
"This inaugural statewide Otis Report conclusively establishes the critical role that creative industries have in sustaining and growing California's economy," says California State Senator Ted Lieu, Chair of the Joint Committee on the Arts and Chair of the Business, Professions, and Economic Development Committee. "The jobs are here, they attract dynamic and creative personalities, and they pay well.  The creative economy is vital to California's future."
At the Broad Stage event, Senator Lieu and Otis President Hoi will speak about the power of California's creative economy. Senator Lieu will reveal details of an upcoming hearing on the subject to be held in Sacramento on February 12, 2014. Robert Kleinhenz, Chief Economist at the Los Angeles County Economic Development Corporation, will present the 2013 report data and forecast, followed by Director of the Actors Funds Western Region Keith McNutt, Arts for LA Executive Director Danielle Brazell, and California Arts Council Director Craig Watson. A networking reception will follow the presentations.
"Creativity is one of California's greatest economic assets," says Kleinhenz. "Knowing the composition of the creative economy in California as well as its contribution to the overall economy enables stakeholders to make more informed decisions about supporting the arts and other creative industries."
More than ever before the market value of products and services derives from their uniqueness and aesthetic appeal as well as their functionality and performance. More companies are seeking employees with creativity as well as problem solving and communications skills. Business location decisions are increasingly influenced by factors such as the availability of a creative workforce and the quality of life available to employees. Moreover, the talent that drives the creative economy provides a competitive advantage that reaches across almost every industry in the state. Supporting education and workforce development will ensure that the state remains a leader in the creative economy, significantly contributing to what Governor Jerry Brown terms the "California Comeback."
EVENT DETAILS
Otis College of Art and Design's Report on the Creative Economy of California
Thursday, February 6, 2014 3PM – 6PM
The Broad Stage
1310 11th Street, Santa Monica, CA 90401
Additional information about the Otis Report is available at http://www.otis.edu/econreport.
Registration for the event is available at http://www.otis.edu/calendar/otis-report-creative-economy.
EVENT SPONSORS
California Arts Council, James Irvine Foundation, Mattel, Nike, Sony Pictures, City National Bank, Boeing, Ovation, Department of Cultural Affairs of the City of Los Angeles.
MEDIA PARTNERS
Arts for L.A., Californians for the Arts, Arts Orange County, LAX Coastal Chamber of Commerce.
ABOUT OTIS COLLEGE OF ART AND DESIGN
Established in 1918, Otis College of Art and Design is a national leader in art and design education. The College's mission is to prepare diverse students of art and design to enrich our world through their creativity, skill, and vision. Alumni and faculty are Fulbright, Guggenheim, and MacArthur grant recipients, Oscar awardees, legendary costume designers, leaders of contemporary art movements, and design stars at Abercrombie & Fitch, Apple, Disney, DreamWorks, Mattel, Nike, and Pixar.   Otis enrolls approximately 1,100 full-time students, and offers Bachelor of Fine Arts degrees in Architecture/Landscape/Interiors, Digital Media (Game and Entertainment Design, Animation, and Motion Design), Fashion Design, Communication Arts (Graphic Design, Illustration, and Advertising Design), Fine Arts (Painting, Photography, and Sculpture/New Genres), Product Design, and Toy Design.  Otis also awards the Master of Fine Arts degree in Fine Arts, Graphic Design, Public Practice, and Writing.    The five-acre main campus is located on L.A.'s Westside near the beach and LAX; Fashion Design is in the heart of the downtown fashion district; and Graduate Studios are on the Creative Corridor in nearby Culver City and in the 18th Street Arts Center in Santa Monica. 2,700 adults and children participate in Continuing Education art and design classes and workshops.
ABOUT CALIFORNIA ARTS COUNCIL
The mission of the California Arts Council, a state agency, is to advance California through the Arts and Creativity. Members of the California Arts Council include: Chair Wylie Aitken, Vice Chair Susan Steinhauser, Michael Alexander, Christopher Coppola, Andrew Green, Charmaine Jefferson, Terry Lenihan, William Turner, and Rosalind Wyman. Learn more at http://www.arts.ca.gov.