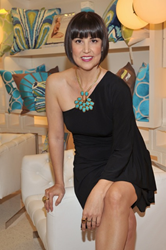 Otis and the 2015 award recipients hold a common belief in the power of the creative economy to change individual lives and communities.
Los Angeles, CA (PRWEB) March 17, 2015
Otis College of Art and Design announced today the distinguished recipients of its annual art and design awards. Fashion designer Trina Turk, founder of the eponymous lifestyle brand and a frequent supporter of the Otis fashion design program, will receive the 2015 Otis Fashion Innovation Award. Carlos Alberini, CEO of iconic denim label Lucky Brand, will accept the 2015 Otis Fashion Leadership Award, and successful youth culture retailer PacSun, with the stewardship of CEO Gary Schoenfeld, will be honored with the Otis 2015 Creative Vision Award. All three of this year's Otis honorees represent top fashion brands with strong roots in Southern California.
"Otis and the 2015 award recipients hold a common belief in the power of the creative economy to change individual lives and communities," said Dr. Kerry Walk, Interim President of Otis College of Art and Design, when announcing the honorees. "Otis College is thrilled to acknowledge and celebrate the success of these three fashion powerhouses that so perfectly, yet uniquely, exemplify California design."
Lucky Brand CEO Carlos Alberini is successfully leading the Los Angeles-based denim and casual American lifestyle brand, founded in 1990. Alberini became Chairman of the Board and Chief Executive Officer of Lucky Brand in early 2014. Charged with invigorating the fashion denim wholesale and retail business, Alberini sees multiple opportunities for expansion through brand extensions, greater emphasis on e-commerce, more productive stores, and international growth. The experienced CEO has noted that the "four pillars" that have inspired Lucky Brand for the last 25 years still define its personality today - vintage Americana, moto, rock 'n' roll and a casual Southern California lifestyle. Prior to joining Lucky Brand, Carlos Alberini was Co-Chief Executive Officer at Restoration Hardware. Earlier he served as President and Chief Operating Officer of megabrand Guess?, Inc., a specialty retailer of apparel and accessories, from December 2000 to June 2010. More info at http://www.luckybrand.com.
PacSun, under the executive direction of Gary Schoenfeld, carries the mantle for California youth culture, with over 600 stores nationwide and the motto Golden State of Mind. Pacific Sunwear of California, Inc., best known as PacSun, is a leading specialty retailer rooted in the action sports, fashion and music influences of the California lifestyle.
The company, originally founded in 1980 as a surf shop, sells a combination of branded and proprietary casual apparel, accessories and footwear designed to appeal to teens and young adults. For over 30 years they've called California home, with offices located in the sun-drenched heart of Orange County. In 2009, surf and skate wear industry veteran and "brand architect" Gary Schoenfeld was named President and CEO and has championed the contemporary direction and renewed growth of the $800 million company. Prior to joining PacSun, Schoenfeld was CEO of Aritzia USA and Co-CEO of Global Brands Group. From 1995 to 2004 he led the turnaround and more than four-fold sales growth as President and CEO of Vans, Inc. into a leading youth lifestyle brand until its acquisition by VF Corporation. More information at http://www.pacsun.com
Trina Turk embodies not just California but the American Dream as an entrepreneurial fashion designer. Founded in 1995 by Trina and her husband, photographer Jonathan Skow, as a women's contemporary clothing line, Trina Turk has evolved into an iconic lifestyle brand, celebrating California style with eleven annual collections of chic women's ready-to-wear and accessories, plus swimwear, recreation/activewear, a Mr Turk menswear line, and residential décor and textiles. A genuine California local, Trina Turk is inspired by the Golden State's multicultural mix, creativity, craftsmanship, architecture, and landscape - a synergy that permeates her contemporary, colorful aesthetic. Infused with bold signature prints and dynamic hues unique to each collection, Trina's modern and optimistic outlook meld the best of classic American design with a California confidence. The Trina Turk brand's corporate headquarters, design and production are located in Alhambra, CA, east of downtown Los Angeles. The first retail store opened in Palm Springs in 2002, and there are now eleven signature boutiques throughout the United States. More info at http://www.trinaturk.com.
Previous Otis awardees include Bob Hurley, founder of Hurley International, designers Isabel and Ruben Toledo, The Walt Disney Company, costume designer Bob Mackie, Warner Bros. Consumer Products, Max Azria of BCBG, Nike, Inc., Bob McKnight of Quiksilver, Leon Max, actor/artist Dennis Hopper, sculptor Robert Graham, swimwear designer Anne Cole, Mattel, Inc., shopping destination Santa Monica Place, designer Todd Oldham, and Michael Gould of Bloomingdale's.
Trina Turk, Lucky Brand's Carlos Alberini and PacSun will receive their awards at the 33rd annual Otis Scholarship Benefit and Fashion Show on May 2, 2015 at The Beverly Hilton. Over 900 leaders in entertainment, fashion, business and finance as well as art and design patrons, press, celebrities, students, alumni and other supporters are expected to attend the gala. The runway show of student designs is considered one of L.A.'s biggest and best annual fashion shows. The theme for this year's event and fashion show is A Celebration of Water.
The 2015 benefit event co-chairs are MGM Studios executive Shelley Reid and Cathy Louchheim of Beverly Hills. This annual event is Otis College's largest fundraiser, last year grossing nearly $1 million in scholarships for art and design students. Tickets and additional information are available at http://www.otis.edu/sbs or by calling (310) 665-6858.
ABOUT OTIS COLLEGE OF ART AND DESIGN
Established in 1918, Otis College of Art and Design is a national leader in art and design education. The College mission is to prepare diverse students of art and design to enrich our world through their creativity, skill, and vision. Alumni and faculty are Fulbright, MacArthur, and Guggenheim grant recipients, Oscar awardees, legendary costume designers, leaders of contemporary art movements, and design stars at Apple, Abercrombie & Fitch, Pixar, DreamWorks, Mattel, Nike, and Disney.
Otis enrolls approximately 1,100 full-time students, and offers Bachelor of Fine Arts degrees in Architecture/Landscape/Interiors, Digital Media (Game and Entertainment Design, Animation, and Motion Design), Fashion Design, Communication Arts (Graphic Design, Illustration, and Advertising Design), Fine Arts (Painting, Photography, and Sculpture/New Genres), Product Design, and Toy Design. Otis also awards the Master of Fine Arts degree in Fine Arts, Graphic Design, Public Practice, and Writing.
The five-acre main campus is located on L.A.'s Westside near the beach and LAX; Fashion Design is in the heart of the downtown fashion district; and the Graduate Studios are on the Creative Corridor in nearby Culver City, and in the 18th Street Arts Center in Santa Monica.
2,700 adults and children participate in Continuing Education art and design classes and workshops.
Additional information is available at http://www.otis.edu