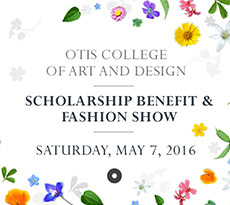 Los Angeles, CA (PRWEB) April 11, 2016
Over 175 fashions, representing the best in up-and-coming designers, will take the runway at one of L.A.'s largest and prominent fashion events – the 34th Annual Otis Scholarship Benefit and Fashion Show. This year's black-tie event, themed 'Regarding Beauty', will draw over 800 leaders in entertainment, fashion, business, and the art and design worlds. Otis College of Art and Design announced today the designers being honored at the event. Contemporary lifestyle brand Joie will receive the 2016 Otis Design Innovation Award. American designer Jenni Kayne will receive the 2016 Otis Style Icon Award and a special tribute to Rosemary Brantley, designer and Founding Chair of Otis' Fashion Design program, is planned for her 35 years of outstanding leadership.
This celebrated annual benefit and fashion show raises money for scholarships and provides students with professional experience. With over 75% of students in need of vital financial aid, many of Otis' promising young artists and designers would be unable to complete their education without this support. Their success tells the story of how lives are transformed and personal potential realized with the help of scholarships. In addition, the fashion show prepares young designers for life post-graduation. "The best part is that they give you a lot of feedback," says junior Nicholas Dolcini about his experience working with industry mentors. "They have their own vision that they want you to follow but they also give you room to create. I really enjoyed being able to take her idea but then make it my own."
Since its inception in 2001, Joie has been one of the most sought-after contemporary brands catering to the savvy, fashion-minded, modern woman. Understatedly chic, Joie's designs are constantly inspired by the Southern California lifestyle and its casual, yet sophisticated way of life. With a guiding concept of "Casual, Comfortable, and Luxurious," the Joie elevates casual basics into impeccable style. With their 'Sunday Girls' campaign featuring other L.A.-based designers and makers, Joie is redefining California-inspired design. Serge Azria, Joie's Chief Creative Officer and the design force behind Current/Elliott and Equipment will accept the award. More information at http://www.joie.com.
2016 Otis Style Icon Award honoree Jenni Kayne is a young American designer that encompasses modern luxury. This tastemaker established her namesake line in 2003 at the age of 19 and has since expanded into the realms of home, entertaining, travel, and family. Through her blog Rip&Tan, she places experiences and culture at the center of her modern, yet inviting collections. More information at http://www.jennikayne.com.
Joie and Jenni Kayne will receive their awards at the 34th Annual Scholarship Benefit and Fashion Show on May 7, 2016, at The Beverly Hilton.
There will be a special tribute in honor of fashion designer and dedicated educator Rosemary Brantley. As Founding Chair of the Fashion Design program at Otis, Brantley has given over 30 years of dedicated and tireless service, building the program from its very inception to the renowned undergraduate program it is today. Her guidance and leadership has propelled hundreds of talented designers' careers. Brantley will be stepping down as Chair this summer and an Endowed Scholarship has been created in her name.
The 2016 benefit event co-chairs are MGM Studios executive Shelley Reid and Cathy Louchheim of Beverly Hills. Founding Chairs Elaine Goldsmith and Honoree Rose Brantley created the annual event which is now Otis College's largest fundraiser, last year grossing nearly $1 million in scholarships for art and design students. Tickets and additional information are available at http://www.otis.edu/sbs or by calling (310) 665-6858.
ABOUT THE OTIS FASHION DESIGN BFA PROGRAM
Fashion Design at Otis trains students in all aspects of the design process, offering a fully accredited BFA degree. The school year follows the industry schedule and several seasons are designed simultaneously. Working with professional mentors, students learn far more than drawing, sewing, and pattern making skills: they experience all facets of the industry, and they learn to meet deadlines with creativity and self-discipline. Graduates enter the profession as assistant designers, associate designers, illustrators, costume designers, textile designers, accessory designers, and product designers. Some start their own clothing lines immediately upon graduation.
ABOUT OTIS COLLEGE OF ART AND DESIGN
Established in 1918, Otis College of Art and Design is a national leader in art and design education. The College mission is to prepare diverse students of art and design to enrich our world through their creativity, skill, and vision. Alumni and faculty are Fulbright, MacArthur, and Guggenheim grant recipients, Oscar awardees, legendary costume designers, leaders of contemporary art movements, and design stars at Apple, Anthropologie, Patagonia, Adobe, Pixar, DreamWorks, Mattel, Nike, and Disney.
Otis enrolls approximately 1,100 full-time students, and offers Bachelor of Fine Arts degrees in Architecture/Landscape/Interiors, Digital Media (Game and Entertainment Design, Animation, and Motion Design), Fashion Design, Communication Arts (Graphic Design, Illustration, and Advertising Design), Fine Arts (Painting, Photography, and Sculpture/New Genres), Product Design, and Toy Design. Otis also awards the Master of Fine Arts degree in Fine Arts, Graphic Design, Public Practice, and Writing.
The five-acre main campus is located on L.A.'s Westside near the beach and LAX; the Graduate Studios are in nearby Culver City, and in the 18th Street Arts Center in Santa Monica.
2,700 adults and children participate in Continuing Education art and design classes and workshops.
Additional information is available at http://www.otis.edu