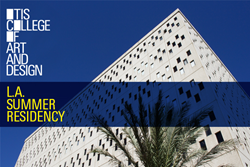 Los Angeles, CA (PRWEB) June 02, 2017
On June 4, 40 artists and designers will begin a month-long art and design residency at Otis College of Art and Design. The immersive program seeks to deepen their practice and connect them to the artists, curators, and critics that make Los Angeles a leading global creative community. As a uniting theme for the residency, Bruce W. Ferguson, author, curator, and current president of Otis College, has suggested the theme, The Imaginative Map of Urgency, asking the residency to examine the role of the artist and designer as a catalyst for change: 
"The summer residency will not only offer working artists a chance to enter into one of the most exciting artistic environments on the globe today— L.A. and its institutions and contemporary practitioners, curators, and critics--but also a chance to think with others about how art can become urgent. We believe always that art is important and is always the final measure of civilizations but with new technologies of communication and unrivaled knowledge about history it seems even more relevant today to address the tension that exists between the forms of information that are conveyed within and by works of art and the stressed environment of reception that they enter. Residents will be able to continue to develop their own work but in a social and pedagogical atmosphere in discussion with other professionals and institutional representatives who themselves are dealing with the same sharp issues." 
To provide feedback and reflection are mentor artists and curators Connie Butler, Chief Curator, Hammer Museum in Los Angeles; Meg Cranston, artist and Chair of Fine Arts, Otis College; Sam Durant, multimedia artist; Rita Gonzalez, Curator and Acting Department Head, Contemporary Art, Los Angeles County Museum of Art (LACMA); Suzanne Isken, Executive Director, Los Angeles Craft and Folk Art Museum; Jo Lauria, author and curator, Los Angeles County Museum of Art (LACMA); Shamim M. Momin, Director, Curator, and Co-Founder, Los Angeles Nomadic Division (LAND); Aram Moshayedi, curator, Hammer Museum in Los Angeles; Eve Schillo, curatorial assistant, Wallis Annenberg Photography Department, Los Angeles County Museum of Art (LACMA); and Jennifer Steinkamp, video and new media installation artist. 
Four keynote speakers will each offer a different exploration of how and why art can be urgent. 
-Otis College president Bruce W. Ferguson will look into the familial relation between art and artifacts and language in his Double Trouble lecture.
-In Artist Unknown  Oliver Wasow will discuss his complicated relationship with new technologies, social media, authorship, ownership, irony, and his on-going, unsatisfied search for creative conviction. 
-Jeffrey Stewart will present a film screening of I Am Not Your Negro delving into the complex legacy of the lives (and deaths) of Medgar Evers, Malcolm X, and Martin Luther King, Jr. 
-Curator Dan Cameron will share his experience in how a vibrant artist community helped rebuild a city in Prospect New Orleans: A Case Study in Art and Crisis
The keynote lectures are all free and open to the public, for dates and times visit otis.edu/calendar. 
The 2017 resident artists and designers are from seven countries, fifteen U.S. states, and from cities across the country such as San Francisco, Brooklyn, Toledo, Albuquerque, and New Orleans. In addition to special programming, guided tours, and workshops, residents will work in the areas such as digital media, painting, photography, 3D printing, printmaking, ceramics, and wood and metal work.
To learn more about the L.A. Summer Residency, visit http://www.otis.edu/summer-residency.
ABOUT OTIS COLLEGE OF ART AND DESIGN
Established in 1918, Otis College of Art and Design offers undergraduate and graduate degrees in a wide variety of visual and applied arts, media, and design. Core programs in liberal arts, business practices, and community-driven projects support the College's mission to prepare diverse students to enrich the world through their creativity, skill, and vision.