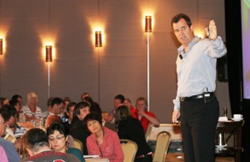 Rick has been profiled in numerous national and international magazines and books as he shows everyday people how to create wealth in real estate, without bank loans or saving large deposits.
(PRWEB) April 01, 2014
Creative real estate strategist, Rick Otton, has cautioned property investors to avoid being overly confident in the midst of heady boom conditions by having smart long-term strategies in place. He made the statement in response to new data which shows real estate investors are continuing to enter the market in droves.
Latest figures from the Australian Bureau of Statistics show a 1.6 per cent increase in investor loans taken out during January, demonstrating that they are continuing to see value in the housing market.
In other revealing information, the Real Estate Institute of Australia says borrowings have now increased over a three-year period. Darwin boasts the best gross rental yields for homes with an asking price of $650 a week.
Rick Otton, an internationally recognised authority on vendor finance, said many property investors were lucky enough to ride the wave of record-low interest rates and ease to bank credit.
"At some point, though, the wave will crash and these same investors risk being financially over committed to banks and compromising their lifestyle in a way they could never have imagined," he said.
"My aim is to empower people across Australia, regardless of their real estate experience, to buy and sell properties using little or none of their own money, and to structure transactions in a way that they can reap the benefits of positive cash flow from day one."
Creative property investment strategies
Mr Otton said while he regularly held ultimate wealth summit events across Australia to teach students his property millionaire secrets, one of the easiest ways to access his techniques was via his Power Property Profits Pack on his website.
The hugely popular pack can be downloaded at no charge and offers an insightful introduction to a huge and flexible variety of up-to-date techniques and tips.
"The Power Property Profits Pack shows people there is a whole other ways of making money in property," Mr Otton said.
"It includes a video on how to buy a house without a new bank loan, a report uncovering bargains, cash flow versus capital and student renovation secrets, how to buy properties at a discount and turning negative geared properties into positive."
Rick has been profiled in numerous national and international magazines and books as he shows everyday people how to create wealth in real estate, without bank loans or saving large deposits.
His philosophy has also been highlighted in various Australian TV shows, including the ABC documentary Reality Bites as well as Today Tonight and Hot Property.
To download Mr Otton's Power Property Profits Pack, visit http://www.creativerealestate.com.au/freepack/.
About Rick Otton
For over 20 years property millionaire Rick Otton has built an impressive real estate portfolio using innovative strategies that he has developed – strategies in which transactions are made without the need for traditional bank-type loans. He constantly refines his techniques as he buys and sells properties through his We Buy Houses business which operates in Australia, New Zealand and the UK.
A gifted speaker and educator, Mr Otton conducts regular one-day free seminars across Australia, which build on the the concepts he shares in his 2012 book 'How To Buy A House For A Dollar', voted by Money Magazine and Dymocks Book stores as one of the Top 10 Most Popular Finance Titles for 2013.
He regularly records and publishes iTunes podcasts via his channel Creative Real Estate.
His innovative low-risk, high-reward approach to Australian real estate investing has been featured in a variety of television programs and magazines, including Today Tonight, A Current Affair and Australian Property Investor.
To download a free Power Property Profits Pack, visit http://www.creativerealestate.com.au/freepack/. To pre-register for one of Mr Otton's free Australian one day seminars visit ReadySetBoom.com.au or phone, in Australia, 1300 888 450