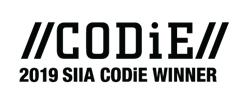 For too long, administrators have had limited insight into the ways in which technology impacts student learning and we think Otus changes that.
CHICAGO (PRWEB) June 14, 2019
Chicago-based K-12 edtech company, Otus, was named the Best Administrative Solution of 2019 as part of the annual SIIA CODiE Awards. The prestigious CODiE Awards recognize the companies producing the most innovative Business and Education technology products across the country and around the world.
"We are extremely honored to have been recognized as an edtech company that is rethinking what is possible with technology for K-12 administrators," said Dr. Keith Wesman, COO and a former public school administrator. "For too long, administrators have had limited insight into the ways in which technology impacts student learning and we think Otus changes that."
The Otus Student Performance Platform allows K-12 school systems to have a single system instead of seperate tools for learning management, classroom management, K-12 formative and summative assessments, and data warehousing. Otus is designed to make K-12 educators more efficient by combining the tools needed to do their jobs into a single place.
In addition to winning a CODiE award this year, Otus has the unique distinction of having been a finalist for several different categories, touching on some of the most significant aspects of teaching and learning: 2019 Finalist for Best Data Solution, 2018 Finalist for Best Student Assessment System, and 2016 Finalist for Best K-12 Learning Management System and Best Classroom Management System.
"The 2019 CODiE award winners represent the best of a new class of innovative products that are disrupting education and adding new efficiencies for educators and administrators. These exciting new products are opening doors for learners of all ages by developing and utilizing new technologies to respond to student and educator needs," said Jeff Joseph, SIIA President. "Congratulations to Otus and all our honorees!"
The winner announcement was made by the Software & Information Industry Association (SIIA), the principal trade association for the software and digital content industries, during the SIIA Ed Tech Conference & CODiE Awards in San Francisco. Thirty-four awards were given for products and services deployed specifically for education and learning professionals, including the top honor of the best overall Education Technology Solution.
A SIIA CODiE Award win is a prestigious honor, as each award winner was first reviewed by expert judges including educators and administrators whose evaluations determined the finalists. SIIA members then vote on the finalist products, and the scores from both rounds are tabulated to select the winners.
More information about the Awards is available at http://www.siia.net/codie.
Details about the winning products can be found at http://www.siia.net/codie/2019-Winners.
About the CODiE Awards
The SIIA CODiE Awards is the only peer-reviewed program to showcase business and education technology's finest products and services. Since 1986, thousands of products, services and solutions have been recognized for achieving excellence. For more information, visit siia.net/CODiE.
About Otus
Otus, which is free for students, teachers, and families, was recently named by Built In Chicago as one of the 100 best places to work in Chicago. It has also been recognized as the "Best Learning Analytics Solution" by EdTech Digest. The company recently unveiled several added features, including its new student profile, which highlights student performance across a variety of metrics and timeframes, and its interactive historical analytics, which will be available in 2019 to enhance educators understanding of student performance and improvement over time. All of these tools are designed to support the successful implementation of initiatives such as standards-based grading, differentiated instruction, and data-informed decision making.