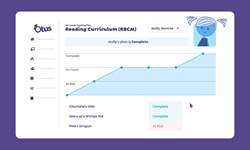 CHICAGO (PRWEB) July 21, 2021
Otus today announced the release of Otus Plans, a new add-on feature within the Otus Student Performance Platform that allows educators to efficiently track and monitor student progress on district-created academic, behavioral, or personalized learning plan.
While most progress monitoring tools in the market are designed exclusively to manage plans for students who have learning plans that are regulated by state and federal laws (i.e IEPs, 504 Plans), Otus Plans is designed to be used with every student as a way to individualize learning for all learners, not just those students who qualify for special education services.
"It is critical that educators are able to see students in a holistic way so that we can ensure that each child is receiving the learning opportunities that will allow them to achieve their personal best," said Dr. Amy MacCrindle, Assistant Superintendent for Elementary Learning and Innovation in Huntley Community School District 158. "Otus Plans will help us have an even better understanding of each student's educational journey, allowing us to better tailor our instructional design and support for all students."
Aside from districts being able to design new learning plans, Otus Plans also allows each school to manage their existing plans, including:
Academic: Credit Recovery, Intervention, Personalized Learning
Student Services: Check-in/Check Out, SEL Check-In, Behavior Modification
College and Career Readiness: College Readiness, Career Track, Graduation Pathway
Eligibility: Enrichment/Gifted Identification, At-Risk Screening, Activity Eligibility
"We have heard from both our clients and prospective clients that there is a need to provide every student in a school with an individualized learning plan," said Christopher Hull, Co-Founder and Chief Product Officer of Otus. "The addition of Otus Plans takes us one step closer to realizing our vision of providing a holistic, and easily accessible, view of student performance for every student."
Otus Plans is available as an add-on module for current Otus clients or as a stand-alone offering for new clients today.
About Otus
Otus provides an all-in-one learning platform for K-12 school systems around the world. By putting learning, assessment, and data management tools on one platform, school communities are able to streamline their edtech while giving school leaders access to real-time data on student performance. Otus has won several awards including a CODiE Award for the Best K-12 Administrative Software. To learn more, visit https://otus.com.