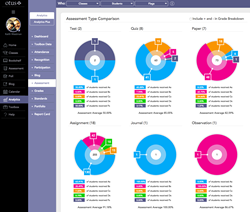 Building our team with people who have a track record of success in this market is imperative.
Highland Park, IL (PRWEB) September 17, 2015
Otus, the EdTech company led by Chicago-based investor Andy Bluhm, has added key executives to the team as the company prepares for rapid growth in the 2015-16 school year. Keith Westman has been named SVP of Sales and Operations, Eric Sagarsee will serve as the VP of Client Success, and Dr. Marvin Feinberg and Steve Griesbach, both retired K-12 District-level leaders will join the team as Senior Associates. Additionally, two long-time Illinois Superintendents, Drs. Fred Schroeder and Dot Weber will join the Otus team as Learning Advisors.
"As Otus prepares to launch our newest product, a powerful learning analytics platform designed specifically for K-12 school systems, we are excited to welcome six people to the Otus team who have significant experience scaling customer-focused organizations that serve the unique K-12 sector," said Andy Bluhm, CEO of Otus and Managing Director at Delaware Street Capital.
Five of the new team members, Westman, Feinberg, Griesbach, Schroeder, and Weber join Otus after helping grow Aspex Solutions (acquired in 2014 by EdTech giant, Frontline Technologies) into the largest provider of applicant tracking and recruiting technology solutions in K-12. Sagarsee joins Otus from DoubleDutch, the providers of the leading conference and event app in the United States.
"As the demand for our K-12 learning management system and analytics platform increases, we know that the level of service and support that we provide to our users, who are primarily educators, must be world-class. Building our team with people who have a track record of success in this market is imperative," said Chris Hull, Co-Founder and Chief Product Officer of Otus.
Aside from Bluhm and Hull, the new hires join current VP of Business Development, Sam Spitz and Co-Founder, Peter Helfers.
About Otus, LLC
Otus, LLC provides two products that rethink the way student learning and engagement data is gathered and used in K-12 school systems. Otus LMS is an easy-to-use yet powerful classroom tool for 1:1 classrooms that brings the best iPad and Chromebook education features together into one secure environment, with one login. OtusPlus Learning Analytics Platform empowers school leaders to research, visualize, and analyze school data in order to tell stories of student growth and engagement in their district. Based in suburban Chicago, Otus has been downloaded by over 80,000 educators since its release in 2014.