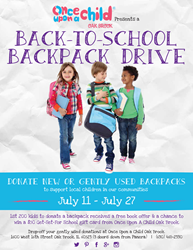 Our mission at Once Upon A Child Oak Brook is to help local families and our environment.
Oak Brook, IL (PRWEB) June 26, 2015
Once Upon A Child in Oak Brook, IL is inviting kids and local area families to donate their gently used backpacks between July 11 - July 28, 2015, at their store located at The Oaks, 1600 W. 16th Street, Oakbrook, IL 60523. The first 200 kids who donate a new or gently used backpack will receive a free book offer from Once Upon A Child, as well as offers from local businesses including JumpZone, Chic-Fil-A, Huntington and other supporters. All those that donate can enter into a drawing to win a $50 Get-Set-For-School gift card from Oakbrook Once Upon A Child.
This year, Once Upon A Child-Oak Brook is working with customers and the community to collect gently used backpacks to support local area children from low-income families to also get ready for back-to-school. Once Upon A Child Oak Brook will hold the backpack drive at its location and deliver the donated items to Catholic Charities in time for their annual Back-To-School Fair
"We are so excited to be working with the community by helping to collect backpacks that kids and families no longer use and that they can still be recycled and benefit someone else," said Rachel Gutierrez, owner of Once Upon a Child Oak Brook. "We even received support from local businesses that are giving coupons and offers to those who are giving back as our way of thanking them for their giving spirit."
Once Upon A Child is the nation's leading children's resale store that buys and sells gently used baby & kids apparel, toys, and equipment (age 0-8). Families can find great deals on back-to-school clothes shopping at Once Upon A Child Oak Brook or even make some extra cash by selling their kids' gently used out-grown clothes, shoes, toys and equipment. For more information, contact the store at 630-468-2330 or visit their Facebook page.