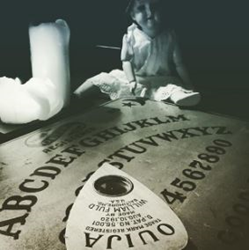 We're going to have an exorcist with us, that way if something happens, we can be cleansed and exorcised immediately.
Oklahoma City, OK (PRWEB) October 19, 2016
The LiveSciFi.tv team will be broadcasting a LIVE paranormal investigation from the ZoZo Ouija Demon House in Oklahoma from October 21st-23rd with two well-known paranormal researchers and special guests coming together for the unprecedented investigation. Tim Wood, founder and lead investigator of LiveSciFi, the largest paranormal channel on YouTube will join Darren Evans, co-author of "The ZoZo Phenomenon" to investigate the haunted location which was previously featured on Travel Channel's "Ghost Adventures" program. During the LIVE broadcast the team will use various methods to make contact with and document paranormal activity including the Ouija Board, Sensory Deprivation, Gods-Helmet, and EVP-ITC.
The entity known as ZoZo is frequently referred to as THE Ouija demon, because of its unexplained appearances during spirit board sessions. There are over 289,000 videos on YouTube of purported encounters and paranormal activity linked to the entity. Evans is perhaps the most famous ZoZo researcher, documenting his experiences since 2008 online, in print, and in film. He has appeared on the Ghost Adventures program, and in the award-winning indie film "I Am ZoZo". His book delving into the demon's origins and methods (co-authored by prolific author Rosemary Ellen Guiley) was released in May of this year. In 1982, Evans discovered a strange two-sided Ouija board buried in the basement of the house and his "playing" with that board introduced the demon into his life, with destructive and terrifying results. His book documents never-released historical accounts of the name ZoZo being historically addressed as an actual demon going back as far as the fourteenth century.
Wood, whose LiveSciFi YouTube channel has over 400,000 subscribers, has been in contact with ZoZo since 2007, when he and his team first encountered the entity during a Ouija session at a haunted location. There are now scores of videos on the LiveSciFi channel and website of Ouija sessions displaying the paranormal phenomena, including EVPs and film anomalies.
When Machinima, one of the largest global digital video programmers, learned of the planned investigation through colleagues at LA-based production company One World Studios, they decided to support the endeavor, sending their own team of YouTube stars to witness it first-hand LIVE on camera.
Machinima stars Brandon Winfrey, Chloe Dykstra and Stephen Ford will be joining the team on their first ghost hunt, simulcasting and re-broadcasting their experience via the Machinima and Inside Gaming channels and attempt a LIVE 360 VR Ouija experience. "We're so excited and a little nervous to be staying overnight in the ZoZo House," said Dystra. "...but it's too interesting to pass up!" added Winfrey.
Wood will lead the combined team through an investigation of the house where Evans and his family members experienced a series of inexplicable events and is apparently still haunted to this day. No one is approaching the ghost hunt lightly. "We're going to have an exorcist with us," Wood points out. "That way if something happens, we can be cleansed and exorcised immediately."
The original spirit board Evans found in the crawlspace is being replicated for the team by Paranormal Products. Evans describes the board, "It was huge and menacing looking. On the 'dark side' were weird inscriptions like someone took a tool and carved into its surface. Someone engraved 'ZoZo' where 'Ouija' was usually written." Evans became obsessed with the board and then came into contact with the ZoZo entity. The destructive repercussions of those encounters began to affect his relationships and people around him which led to decades of research on the subject.
The investigation will be shown in real time on LiveSciFi.tv, the LiveSciFi YouTube channel, with featured clips appearing on Machinima on Halloween. The LIVE show begins at 10 pm EST on October 21 and concludes on Sunday, October 23rd. The trailer for the event can be found here.
More information on the ZoZo demon can be found at LiveSciFi.tv, Evans' blog, and by purchasing a copy of his book at zozophenomenon.com
About LiveSciFi.tv:
Created by host Tim Wood, the LiveSciFi ghost hunting team is known for conducting more extreme investigations than the average cable TV fare. Their show has streamed on Yahoo!, YouTube, Facebook, UStream, and Justin.tv, where they routinely smash online records for views and minutes-watched-per-viewer.
About One World Studios Ltd.:
The first company in history to sell movies directly to fans via social network, OWS are natives of the social revolution. Specializing in feature films, live online streaming, webisodes, and branded video content, One World Studios Ltd. is on the cutting edge of audience aggregation, content distribution, film and video production. Credits include biker movie classic 'Choppertown: the Sinners' and associated global lifestyle brand Choppertown Nation, Ouija Movie 'I Am ZoZo' about the ZoZo demon, and LiveSciFi, a premium live online ghost hunting show. OWS has been a fully independent distribution and production company since 2002.