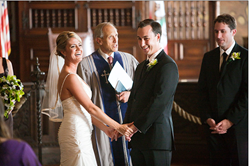 To make a courthouse wedding special, don't skimp on your wedding dress.
Fort Lee, New Jersey (PRWEB) September 29, 2013
At a time when the average traditional wedding can cost upward of $20,000, more couples than ever before are opting for low-cost courthouse weddings. But opting for a courthouse wedding doesn't mean it can't be special. In the latest blog from OurBigStep.com titled, "Tips on Making it a Memorable Courthouse Wedding," guest blogger Liz Ernst offers some advice for making a courthouse wedding as special as it deserves to be.
No matter how small the wedding, there really is no such thing as a "quickie, no-frills" wedding unless it is treated as such. Even those couples that choose a courthouse ceremony can make it a very special day with just a bit of effort.
"To make a courthouse wedding special, don't skimp on your wedding dress," Ernst says. "There is no rule that says you can't wear a wedding gown to the courthouse to be married by a justice of the peace.
"Depriving yourself of a wedding dress you love is the one thing you will regret when you look back at your wedding day pictures."
Courthouse wedding brides don't have to buy the most formal gown in the store (unless they want to), but they should wear something that makes them feel amazing., according to Ernst.
Next, Ernst advises couples to send out invitations to their courthouse wedding, even if only a few guests are being invited.
"Just because it's a courthouse wedding it doesn't mean you should invite your guests via text," Ernst says. Even if you only have four guests coming, be sure to send each of them a lovely invitation; it will make the day feel special, which it is."
In addition, the bride and groom should have flowers and a photographer present to get those irreplaceable photos of moments you will always want to remember. Finally, do something wonderful after the wedding to celebrate.
"Have as wonderful a reception as you can possibly afford," Ernst says. "Have reservations at a fine restaurant waiting, or host something intimate at home."
OurBigStep.com is a great resource for couples planning to marry, or who have recently married. For more information, visit the OurBigStep.com website or email info(at)ourbigstep(dot)com.
About Marble Media LLC:
Marble Media LLC is a creator of high-quality, content-rich blog sites that provide expansive coverage of relevant information to readers who make up a wide range of demographics. The Marble Media LLC team of expert writers covers a wide range of specialties including travel, food, health, fitness, social media, marriage, parenting, technology, weight loss, fashion and much more.
For more information on Marble Media LLC's offerings and advertising opportunities, visit the MarbleMediaLLC.com website, or email sales(at)marblemedia(dot)com.