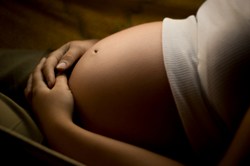 Self-hypnosis in childbirth has been around for centuries.
FORT LEE, New Jersey (PRWEB) July 10, 2013
Pregnant women looking for natural options to pain control are turning to hypnobirthing – a form of self-hypnosis that helps control mom's pain and fear, drug-free, by placing mom in a state of deep relaxation to facilitate a manageable birth. In the latest blog from Marble Media LLC's marriage blog site Our Big Step.com titled: "More Pregnant Women are Turning to Hypnobirth Labor and Delivery Techniques", guest blogger Liz Ernst discusses the rising popularity of hypnobirthing among parents-to-be looking for a medication-free option for labor and delivery.
"This form of self-hypnosis is catching on quickly, and even Kate Middleton is said to have explored hypnobirthing as an option for delivering the future monarch of the United Kingdom," Ernst says. "Celebrity mom Jessica Alba has also sung the praises of self-hypnosis as a calming technique during labor."
Classes to learn hypnobirthing are available to pregnant women, which combine relaxation and breathing techniques to achieve a state of relaxation so powerful, the laboring mom's body can accomplish what it needs to in order to deliver the baby naturally. Women study hypnobirthing with a course book and accompanying CD to master the breathing and visualization techniques necessary to get through the birthing process calmly, with less pain and less fear.
"Self-hypnosis in childbirth has been around for centuries," Ernst says. "But it's only in the last 30 years that classes have been developed to help women master the techniques.
"You've heard these classes called by various names, including "The Mongan Method", "Hypnobabies", "The Leclaire Hypnobirthing Method" and "Hypbirth", but they all operate by teaching mom to self-hypnotize until she reaches a deeply relaxed state that makes drug-free childbirth a very manageable experience."
For more information, visit the OurBigStep.com website or email info(at)ourbigstep(dot)com.
About Marble Media LLC:
Marble Media LLC is a creator of high-quality, content-rich blog sites that provide expansive coverage of relevant information to readers who make up a wide range of demographics. The Marble Media LLC team of expert writers covers a wide range of specialties including travel, food, health, fitness, social media, marriage, parenting, technology, weight loss, fashion and much more.
For more information on Marble Media LLC's offerings and advertising opportunities, visit the MarbleMediaLLC.com website, or email sales(at)marblemedia(dot)com.
###