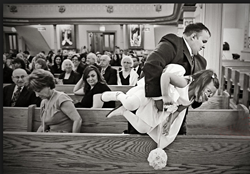 Brides and grooms are no longer satisfied with cookie-cutter wedding pictures that every bride and groom before them have posed for.
Fort Lee, NJ (PRWEB) August 16, 2013
Today's brides and grooms are shedding some age-old wedding traditions and establishing new, more personal approaches to planning their big day. One wedding standard that has possibly taken the sharpest turn from tradition is wedding photography, often with pretty spectacular results. In the latest blog from OurBigStep.com dated August 12, 2013 and titled, "Creative Wedding Photos a Growing Trend," guest blogger Liz Ernst looks at some of the latest, often hilarious and always unique wedding photos that couples are incorporating into their wedding albums.
Wedding photography has never been more competitive, a fact that has opened doors for more creative photo poses, settings and themes. Brides and grooms are no longer satisfied with cookie-cutter wedding pictures that every bride and groom before them have posed for. Since most couples today are paying for their own weddings, they want every detail to speak their name, and the photos are no exception.
"Couples spend a decent chunk of their wedding budget on a photographer and the resulting photos, and with good reason," Ernst says. "The big day flies by in a flash, and without those important celluloid memories, our weddings would be lost to hazy flash backs at best.
"Wedding pictures are meant to capture the wedding day details that the couple will remember forever, and they're making the most of the professional photographer they've hired to incorporate their sense of humor, fantasy and vision into the photography."
Today's brides and grooms will meet with a photographer at a local beach, lake or river a few days or weeks after the ceremony to get pictures in gown and tux (or suit) as they plunge into watery depths, roll around dripping wet in sand, and basically trash their expensive wedding clothes in exchange for some one-of-a-kind wedding shots. Some even have their wedding party join in on the photo shoot.
An even newer trend has couples taking advantage of local landmarks, themed wedding props or particularly memorable settings to create delightful wedding shots that incorporate their own brand of humor, geekiness, passion or adventure.
More and more wedding photographers are building their own reputation for innovation and creativity by obliging brides and grooms with unique, creative poses.
"These are the wedding albums and videos that never elicit groans when they're pulled out for visiting friends and family," Ernst says. "Whether it's a Tyrannosaurus Rex chasing a terrified wedding party, a wedding guest unceremoniously removing a noisy child from the church, or a mystical Romeo and Juliet setup, the sky is pretty much the limit for wedding photos that speak each couple's personal language."
Ernst suggests couples meet with several photographers to find one that clicks, or get the name of a photographer who did a great job shooting a friend's wedding.
"You want to feel comfortable that the photographer you choose understands your vision," Ernst says. "And have fun.
"These are the wedding photos you'll cherish for a lifetime."
For more information, visit the OurBigStep.com website or email info(at)ourbigstep(dot)com.
About Marble Media LLC:
Marble Media LLC is a creator of high-quality, content-rich blog sites that provide expansive coverage of relevant information to readers who make up a wide range of demographics. The Marble Media LLC team of expert writers covers a wide range of specialties including travel, food, health, fitness, social media, marriage, parenting, technology, weight loss, fashion and much more.
For more information on Marble Media LLC's offerings and advertising opportunities, visit the MarbleMediaLLC.com website, or email sales(at)marblemedia(dot)com.
###