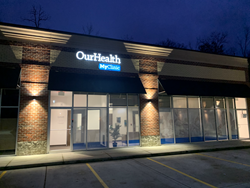 CINCINNATI (PRWEB) December 11, 2019
OurHealth, the industry-leading near-site healthcare clinic network for employers, today announces the opening of its fourth Cincinnati location in Green Township as well as a new partnership with Delhi Township, Ohio.
The healthcare provider will offer a full suite of primary care services for Delhi Township's nearly 100 plan-eligible employees and their covered spouses and dependents, including wellness screens, physicals, sick care and health coaching.
OurHealth entered the Cincinnati market in early 2019 with the launch of its Cincinnati MyClinic network, which includes locations at Springdale Town Center, The Shoppes at Kings Mills, and downtown Cincinnati at Fourth and Main Streets. The fourth location – MyClinic @ Green Township – is now open on the westside of Cincinnati.
In addition to its expanding network of clinic locations, OurHealth is growing its roster of Cincinnati-based clients with the addition of Delhi Township. OurHealth already has several established partnerships with local employers, including First Financial Bank, Rumpke and Hamilton County, Ohio.
"The MyClinic model made the most sense for our employees. Now with a west side location to complement their multiple clinic locations around Cincinnati, our people have the option to choose what's most convenient for them," said Melanie K. Hermes, Delhi Township HR Director. "We believe that removing the barriers to healthcare will truly create healthier outcomes."
The MyClinic network significantly lowers the barrier to entry by allowing employers to gain immediate access to a network of primary care clinics that are conveniently located within a 10-minute drive of the employee's home or office.
Employers are attracted to OurHealth's model for three key reasons — improved access to care for their employees and their dependents, independence from any hospital system or network allowing for unbiased, cost-effective referrals and robust reporting capabilities so business owners can easily understand their return on investment.
OurHealth clients enjoy an average savings of 17 percent on health plan costs through better management of chronic conditions, ER avoidance and reduced lab and drug costs.
"We're excited to welcome Delhi Township to the Cincinnati MyClinic network," said Ben Evans, OurHealth CEO and Co-founder. "We're confident they'll love the experience, and we can't wait to make an immediate impact on their employees' health, and of course their bottom line."
OurHealth is on a mission to save employers $1 billion in healthcare costs, and to date has saved its clients more than $180 million. The company takes a patient-focused approach to care, including same and next-day appointments, waiting room times of less than five minutes, appointments that average 20 to 40 minutes and a patient satisfaction score of 98 percent.
In 2018, OurHealth patients lost a combined 40,000 pounds and 32,000 points of LDL ("bad") cholesterol. OurHealth clients include a wide range of employers of all sizes and industries, including Anthem, Harris Teeter, CNO Financial Group and the Indianapolis Airport Authority.
###
About OurHealth
Founded in 2009, OurHealth provides employer-sponsored healthcare to organizations of all sizes via its onsite and near-site primary care clinics. OurHealth offers a comprehensive healthcare approach to its clients and their employees, which includes primary care services, wellness services, onsite laboratory and medication dispensing services and referral guidance. OurHealth operates clinics in Indiana, Illinois, North Carolina, Ohio, Pennsylvania and Tennessee. To learn more about OurHealth, visit http://www.ourhealth.org.