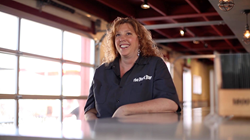 Through the Ours To Own Denver initiative, people will be able to invest as little as $20 to support community development in the Denver region.
Bethesda, MD (PRWEB) June 24, 2014
Today the Ours To Own campaign was announced at the CGI America meeting in Denver. The campaign is a Clinton Global Initiative (CGI) Commitment to Action that leverages the collective power of individuals' small investments to support local community development in the Denver region.
Starting today, people will be able to invest as little as $20 in the Denver region through Calvert Foundation's Community Investment Note on the Vested.org platform. This investment will support the work of local organizations, including Urban Land Conservancy (ULC), Colorado Enterprise Fund (CEF), and the Community Reinvestment Fund, USA (CRF), who are creating equitable opportunity for all Front Range residents.
Margot Kane, the Vice President for Strategic Initiatives at Calvert Foundation, commented, "We are excited to bring this investment platform to the Denver community. We have been continually inspired by the incredible work of our partners who work every day to ensure that the growth in the Denver region benefits all populations and neighborhoods."
The investment dollars raised through this campaign provide a new source of private capital and an unprecedented approach for local community engagement.
"This unique investment into metro Denver provides residents with an incredible opportunity to actually see positive work happening on the ground," says Aaron Miripol, President and CEO of ULC. "ULC will access these funds not only to improve the built environment here in the Denver area, but also create economic opportunities for local communities."
"Colorado's 'buy local' support of small businesses will now have an 'invest local' way to finance them through Ours To Own. We have enjoyed a long partnership with Calvert Foundation and look forward to expanding it through this campaign," said Ceyl Prinster, President and CEO of Colorado Enterprise Fund.
"We are excited to work with Calvert Foundation, Colorado Enterprise Fund, ULC and all of our Denver partners to provide additional financing to underserved Denver area small businesses," said Frank Altman, President and CEO of CRF. "We look forward to helping more small businesses access the financing they need to grow and create jobs."
Ours To Own is a national campaign inspired by the belief that citizens should be able to invest in building the future they want in their cities. As part of the announcement at CGI America in Denver, Calvert Foundation made a "five by '15" commitment to bring the campaign to five U.S. cities by 2015. The Twin Cities campaign launched today, along with Denver, with plans to expand to Baltimore and Oakland in the near future.
This work is a collaboration of organizations across sectors working together to make Ours To Own possible for the Denver region. In addition to ULC, CEF, and CRF, The Piton Foundation and The Colorado Health Foundation have been dedicated local partners.
"We are proud to support this collaborative effort to create systemic change in the Denver region," says David J. Younggren, President of The Piton Foundation. "Through the Ours To Own campaign, Denver residents will be empowered to invest locally in ways that are meaningful to them, and nonprofit organizations will be strengthened through increased access to capital. We look forward to watching as this initiative mobilizes residents to engage more directly in community transformation."
"Our vision is to make Colorado the healthiest state in the nation. Working with our partners, one strategy is to increase physical activity and access to healthy food, both critical to improving health outcomes in underserved communities," noted Jesse Wolff, director of private sector initiatives at the Colorado Health Foundation. "By investing capital in Calvert Foundation's 'Ours To Own Denver' campaign, we believe it will spark community members to invest in critical local projects that revitalize neighborhoods, create healthier places and grow jobs in Denver."
###
About Calvert Foundation
Calvert Foundation enables people to invest for social good. Through its flagship Community Investment Note, Calvert Foundation has raised $1 billion in investment from more than 13,000 investors to invest in hundreds of nonprofits and social enterprises worldwide. Investor dollars empower women, fund the construction of affordable housing, provide loans to small business owners, increase access to healthcare, and support fair trade and sustainable agriculture. http://www.calvertfoundation.org and http://www.vested.org
About Clinton Global Initiative America
The Clinton Global Initiative America (CGI America), a program of the Clinton Global Initiative, addresses economic recovery in the United States. Established in June 2011 by President Bill Clinton, CGI America brings together leaders in business, government, and civil society to generate and implement commitments to create jobs, stimulate economic growth, foster innovation, and support workforce development in the United States. Since its first meeting, CGI America participants have made over 300 commitments valued at more than $15 billion when fully funded and implemented. To learn more, visit http://www.cgiamerica.org.
About Urban Land Conservancy: http://www.urbanlandc.org
About Colorado Enterprise Fund: http://www.coloradoenterprisefund.org/
About Community Reinvestment Fund, USA: http://www.crfusa.com/
About Colorado Health: http://www.coloradohealth.org/
About Piton Foundation: http://www.piton.org/