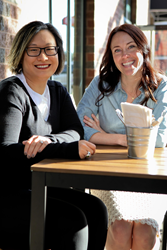 This exciting partnership allows us to amplify our efforts to provide financing to underserved Twin Cities small businesses so they can grow and create jobs.
Bethesda, MD (PRWEB) June 24, 2014
Calvert Foundation and the Community Reinvestment Fund, USA (CRF) announced today the launch of the Ours To Own campaign, a Clinton Global Initiative (CGI) Commitment to Action, which combines the collective power of individual small investments to support local businesses in the Twin Cities. The announcement was made at the CGI America meeting in Denver.
Starting today, people will be able to invest as little as $20 in the Twin Cities through Calvert Foundation's Community Investment Note on the Vested.org platform. These investments will support CRF's small business lending program, which targets business owners who have historically faced difficultly securing financing. In particular the initiative aims to provide financing for women, minority, and veteran owned businesses, in neighborhoods that have been underserved in the past.
Margot Kane, Vice President for Strategic Initiatives at Calvert Foundation, commented "This initiative celebrates the unique and entrepreneurial spirit of the Twin Cities. We are excited to harness the enthusiasm of residents to fuel a diverse, dynamic, and growing small business community for years to come."
CRF has been working in the Twin Cities area for 26 years, and has made more than 649 loans totaling $89.7 million. "This exciting partnership allows us to amplify our efforts to provide financing to underserved Twin Cities small businesses so they can grow and create jobs," said Frank Altman, President and CEO of CRF. "I am also thrilled that the minimum investment is $20 because it creates a way for a whole new audience to invest and make a difference in their own neighborhoods."
Ours To Own is a national campaign inspired by the belief that citizens should be able to invest in building the future they want in their cities. Through these investments, community development organizations will be able to better serve the local small businesses they support, in turn creating jobs and fostering an entrepreneurial and healthy ecosystem.
As part of the announcement at CGI America in Denver, Calvert Foundation made a "five by '15" commitment to bring the campaign to five U.S. cities by 2015. The Ours to Own Denver campaign also kicks off today, with plans to expand to Baltimore and Oakland in the near future.
Nationally, the campaign has been supported by the Kresge Foundation, PNC, and Wells Fargo.
About Calvert Foundation
Calvert Foundation enables people to invest for social good. Through its flagship Community Investment Note, Calvert Foundation has raised $1 billion in investment from more than 13,000 investors to invest in hundreds of nonprofits and social enterprises worldwide. Investor dollars empower women, fund the construction of affordable housing, provide loans to small business owners, increase access to healthcare, and support fair trade and sustainable agriculture. http://www.calvertfoundation.org and http://www.vested.org.
About CRF
CRF, a nonprofit organization and certified Community Development Financial Institution (CDFI), is a national leader in bringing capital to underserved areas. Since 1988, CRF has injected more than $1.5 billion into low-income and economically disadvantaged communities around the country to help stimulate job creation and economic development, provide affordable housing, and support community facilities. For more information, http://www.crfusa.com.
About Clinton Global Initiative America
The Clinton Global Initiative America (CGI America), a program of the Clinton Global Initiative, addresses economic recovery in the United States. Established in June 2011 by President Bill Clinton, CGI America brings together leaders in business, government, and civil society to generate and implement commitments to create jobs, stimulate economic growth, foster innovation, and support workforce development in the United States. Since its first meeting, CGI America participants have made over 300 commitments valued at more than $15 billion when fully funded and implemented. To learn more, visit http://www.cgiamerica.org.
Established in 2005 by President Bill Clinton, the Clinton Global Initiative (CGI), an initiative of the Bill, Hillary & Chelsea Clinton Foundation, convenes global leaders year-round and at its Annual Meeting to create and implement solutions to the world's most pressing challenges. CGI also convenes CGI University, which brings together undergraduate and graduate students to address pressing challenges in their communities and around the world. To date, members of the CGI community have made more than 2,800 Commitments to Action, which are already improving the lives of more than 430 million people in over 180 countries. When fully funded and implemented, these commitments will be valued at $103 billion. For more information, visit clintonglobalinitiative.org and follow us on Twitter @ClintonGlobal and Facebook at http://www.facebook.com/clintonglobalinitiative.