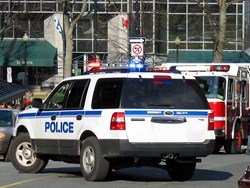 We don't give legal advice, but we do provide a complete resource for tools that have worked well for other drivers facing out of state tickets for speeding or other infractions
San Francisco, California (PRWEB) September 12, 2013
The average speeding ticket cost is now over $150, according to insurance studies. Drivers that travel from state to state and receive a ticket could pay high rates for infractions. The http://www.noripoffs.com website has posted its out of state speeding ticket defense tips for drivers to use online.
"We don't give legal advice, but we do provide a complete resource for tools that have worked well for other drivers facing out of state tickets for speeding or other infractions," said a ticket researcher for the No Rip Offs website.
The cost of a ticket is only one part of the fees that drivers usually pay when they are found guilty in court. The cost for car insurance can rise as much as 22 percent for a renewal premium based on the infractions that are listed on a driver's record.
"Tickets that are given out of state are usually paid by drivers through the mail although a defense can be mounted without an attorney using specific guidelines that could help a driver beat a speeding ticket," the researcher added.
Apart from the out of state guidelines, state by state information is now provided in a series of publications released by the No Rip Offs company. This resource focuses on traffic ticket solutions for drivers who cannot afford an attorney.
Additional resources are planned for the 2014 year to help expand the options for consumers in other areas of commerce. The new information posted online is educational in nature and can be used in all 50 states if a driver selects the self-representation method for a traffic ticket or other motor vehicle offense.
About NoRipOffs.com
The NoRipOffs.com website is a resource for consumers to help eliminate the majority of fees and expenses that can be charged without warning. This company has earned its reputation by providing traffic ticket advice and is scheduled to expand its offerings in 2014. The NoRipOffs.com company is owned and operated by expert researchers who uncover usable information that is hard to locate by consumers who do not have trusted resources online or offline. This company publishes e-books, reports and web content that is accessible 24/7.