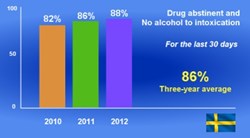 86% of the total number of graduates surveyed reported that after one to three years they had used no drugs in the last 30 days or drunk alcohol to intoxication.
(PRWEB) October 10, 2013
In 2012 Narconon Eslov, located near the university towns of Lund and Malmo in southern Sweden, celebrated its 30th anniversary delivering Narconon residential drug rehabilitation treatment. As part of the commemoration it asked an externally contracted staff member to survey its program graduates of the last three years to measure drug and alcohol abstinence as well as several quality of life indicators.
They used a 'Routine Outcome Monitoring' (ROM) survey form, recently validated as a standardized outcomes instrument in a paper published in a peer-reviewed journal in the United States. This survey form gathers information regarding "30-day" and "since graduation" abstinence statistics as well as back to work or school, crime free, family relations data, etc. The survey call procedure is formalized and the tabulation independent, in this case done by the Narconon International Science Advisory Board.
This Summary Analysis of Eslov ROM surveys 2010 - 2012 paints a picture of graduates doing well in life, the majority staying sober, including those who may have relapsed early on, and most either working or in school. The surveyor reached 87.5% of the graduates (ability to follow up of 85% is a very good response.) 86% of the total number of graduates surveyed reported that after one to three years they had used no drugs in the last 30 days or drunk alcohol to intoxication. 59% reported they had been fully drug abstinent since graduation. The difference between these two figures implied that about 25% of the graduates had relapsed at least once (survey data indicating mostly in the first six months after program completion) but then 'handled' the risk factors or other circumstances of relapse sufficient that they stayed sober later.
The paper presents data supporting this possibility. The majority of the graduates reported they had been using the Narconon program's life skills course data in their lives -- 32% mentioned communication skills, 12% methods 'to stay focused in present time,' 10% personal ethics training, and 14% 'everything.'
Hakan Larsson, executive director of Narconon Eslov, who has worked in the center for most of its 30 years and is himself a long-term graduate of the program, was interviewed. He said that Eslov provides one year free after-care and that many students do call in for help if they relapse. "Some graduates come back in to the center for a one to two week 'retread' or review of portions of the Narconon program." He said that the center is using the ROM survey results as quality control feedback to see where they need to concentrate more attention, for example, on alcohol consumption post-graduation. As elsewhere in Scandinavia and other northern countries, strong alcohol use is socially very popular. This leads to a lot of heavy drinking -- the Eslov survey reported that only 47% of graduates had not drunk alcohol to intoxication even once since graduation. "We're working on better education concerning alcohol, especially," said Larsson.
The survey responses to quality of life measures supported the abstinence data. After one to three years, 75% of the graduates were either working or in school the last 30 days, 87% reported "positive relations with their family," and nearly 100% reported having been arrest-free.
Recently formally validated, the 'Routine Outcome Monitoring' procedure has been used for some time. Narconon International has published two earlier summary analyses of Narconon Arrowhead ROM survey outcomes (2006 and 2009 ). Also, the ROM survey and procedure research was done at Narconon Arrowhead in Oklahoma because the center already had graduate follow-up protocols in place and functioning.
Dr. Richard Lennox, Ph.D., principal researcher for the ROM study, commented that he hopes that "this Routine Outcome Monitoring system can be used by any rehab center, not just Narconon, for repeated and regular post-treatment follow-up as a method of quality assurance. We hope this provides them a simple, useful tool."
In the United States, the Center for Substance Abuse Treatment has been advocating that drug rehab centers monitor their outcomes for some years, especially since the Government Performance Results Act Modernization bill of 2010 asserted that government agencies and their contracting entities should be more accountable to outcome research.
Finally, as the Narconon Eslov outcomes paper states, Sweden itself has a zero tolerance policy: "The Swedish drug control policy is guided by the vision and the ultimate goal of achieving a drug-free society and the unequivocal rejection of drugs..."
Narconon Eslov and its staff are doing their part.
For further information on Narconon Eslov, contact narconon(dot)eslov(at)telia(dot)com. For more on the Narconon program, please visit http://www.narconon.org.
______________________________
References:
A Simplified Method for Routine Outcome Monitoring after Drug Abuse Treatment. Lennox, R; Sternquist, M; Paredes A. 2013 JSART found at http://www.la-press.com/a-simplified-method-for-routine-outcome-monitoring-after-drug-abuse-tr-article-a3885.
http://www.narconon.org/about-narconon/eslov-outcome-paper.pdf
http://www.narconon.org/about-narconon/2006-narconon-arrowhead-analysis.pdf, Accessed 2 October 2103
http://www.narconon.org/about-narconon/2007-narconon-arrowhead-analysis.pdf Accessed 2 October 2013
Sweden's Drug Policy: A review of the Evidence. United Nations Office on Drugs and Crime;
http://www.ecad.net/ecad/svnet/etc/Swedish_drug_control.pdf, Introduction, page 7