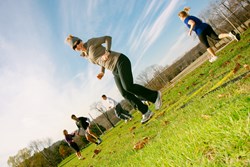 Fun and Energetic Personal Training Classes
Kimberton, PA (PRWEB) February 17, 2014
Fitbody Personal Training near King of Prussia PA announces new outdoor training classes. Get ready for a fun way to take your Thursday night workout away from the gym and prepare to energize your body with a challenging outdoor workout from FitBody Personal Training LLC.
Personal trainer near King of Prussia PA, Carolyn Grashof is taking her boot camp classes outside every Thursday evening starting February 27th until April 3, 2014. All Saturday and Sunday boot camp classes will be held outside starting February 15th until March 23, 2014.
The fun and energetic personal training classes will be held in Phoenixville, PA near King of Prussia PA. Thursday evening classes are held at Phoenix Hook Hose and Ladder co. no. 1 located at 177 Church Street Phoenixville, PA 19460. Saturday and Sunday classes are held at Phoenixville Civic Center located at 123 Main Street Phoenixville, PA 19460.
The boot camp classes will be structured as fun and friendly and they are designed for all levels of participants. Requiring no yearly commitment, the classes will run on a 6-week schedule, although participants can sign up anytime. Classes will run on Thursdays from 6:30-7:30 p.m. and on Saturdays at 7:45 a.m. and also on Sundays at 8:30 a.m.
FitBody Personal Training near King of Prussia Pa will also offer a beginner-oriented class called FitBody 101. Participants will learn how to exercise safely and correctly with a balance of cardio, strength conditioning and core work, all in a non-threatening and supportive environment. The classes will be on Saturdays at 9:00 a.m., at the Civic Center in Phoenixville Pa.
For more information about FitBody Personal Training LLC or Carolyn, visit http://www.fitbodyforeverybody.com or email carolyn(at)fitbodyforeverybody(dot)com.
Media Contact
Carolyn Grashof
610.209.8047
carolyn(at)fitbodyforeverybody(dot)com