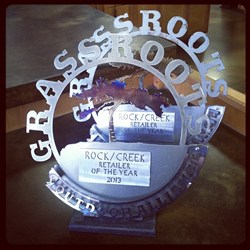 Rock/Creek is the most innovative retailer we are working with.
Chattanooga, TN (PRWEB) July 23, 2013
Rock/Creek is pleased to announce its selection as the Grassroots Outdoor Alliance's "Retailer of the Year" for 2013. Having received the same award previously, in 2011, this makes the Chattanooga-based specialty outdoor retailer a two-time winner in a three-year span.
The Grassroots Outdoor Alliance (Grassroots) is a collaborative group of independent outdoor retailers, committed to improving the quality of experience for outdoor enthusiasts and continued sustainability of the specialty outdoor channel.
The Retailer Of The Year award is chosen by Grassroots' participating vendor partners.
"Rock/Creek is the most innovative retailer we are working with," says Brian Thompson, Director of Global Sales and Marketing for Horny Toad. "They are willing to try new approaches to our business and work outside of the traditional outdoor business models. They are true partners in our relationship and work equally as hard as we do to make our business work."
In the age of Amazon, Rock/Creek feels that both customers and vendors alike are seeking out top specialty retailers -- and they have long believed that the market will reward those who invest in providing knowledgeable sales staff, well-merchandised stores, and operate ethically.
"Our staff provides a level of service and knowledge not available at big box stores," says Mark McKnight, Rock/Creek Marketing Director. "Beyond that, we give back to the community through thousands of volunteer hours as well as financial donations. We develop relationships with our vendors and our customers."
Co-owner Dawson Wheeler added, "We are thrilled to receive this recognition, and it is truly an honor to be chosen from the long list of fantastic Grassroots retailers; we'd like to extend our appreciation to each of the vendors who voted for us."
Rock/Creek adds this latest award to a growing list of recognition from within and without the outdoor industry, including: STELLAService ELITE in 2013 for outstanding customer service (highest available rating), Internet Retailer's Second 500 list for 2011-2013, Backpacker Magazine/SNEWS "Retailer of the Year" online for 2009, and the Better Business Bureau's Accredited Business rating of A+ in 2013. The online store at http://www.rockcreek.com is consistently rated highly by Bizrate and other online review sites.
About Rock/Creek: Rock/Creek is an independently-owned specialty outdoor retailer based in Chattanooga, Tennessee. With 25 years of brick-and-mortar experience, Rock Creek offers only the very best outdoor apparel and equipment from top brands like Marmot, Patagonia, prAna, Black Diamond and Chaco. Our dedicated staff of outdoor enthusiasts and gear experts is here to ensure that customers are comfortable and safe in the outdoors.
About Grassroots Outdoor Alliance: The Grassroots Outdoor Alliance is a group of independent outdoor retailers, operating more than 98 specialty outdoor storefronts across the United States. Grassroots creates benefits for its members by sharing information, fostering communication, promoting best business practices and working to protect our natural environment both locally and globally.