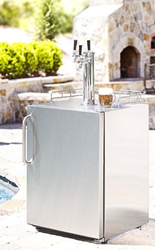 For those who throw really big outdoor parties, it can be worth investing in a professional quality party cooler, which has a huge capacity for cans and bottles with no ice or messy cleanup needed.
(PRWEB) July 07, 2014
HomeThangs.com – the Online Home Improvement Store has made their goal to deliver the right product to the consumer. With that in mind, shopping and home design tips, as well as special product selections are being introduced.
There are two important features that go into serving drinks outdoors: presentation and temperature, but it's rare to find drink storage or services that both look good and keep drinks cold. Finding the right balance between the two depends on the size of the outdoor space and the number of guests. HomeThangs.com has introduced a guide to a few options that blend the best of both worlds.
For those who do a lot of outdoor entertaining, particularly for adults, a simple bar setup can be an invaluable addition to an outdoor space. Outdoor bars offer ample shelf or sometimes cabinet space to keep a full range of liquors and cocktail mixers stocked but out of the way. Adding a simple ice bucket makes it possible to serve up cold drinks without having to keep a large number of cans or bottles chilled, which both saves space and reduces the mess of having a big bucket of melting ice. This can also work for non-alcoholic mixed drinks, and is a little more fun and indulgent than the traditional bottled water and soda.
Serving carts are a similar beast: they're great for conveniently dishing up drinks and food in style, but don't have the capacity to keep a lot of drinks cold at once. Many models come with a built in ice bucket which helps, but where these carts really shine is when serving food and drinks in an outdoor area that doesn't have designated dining furniture. A cart on wheels can easily be moved outside from an indoor kitchen, and has plenty of room for food, drinks, plates, and so on.
For those who throw really big parties, it can be worth investing in a professional quality party cooler. These are similar to the large drink display tubs sometimes found in convenience stores: they're about the size and shape of a trash can and can be completely filled with drinks in cans or bottles. But unlike similar beverage coolers that have to be filled with ice, these have built in refrigeration systems that can charge overnight and then be placed outside for up to eight hours while still keeping drinks ice cold.
For a more intimate gathering, having the ability to store a huge number of cold drinks probably isn't a big priority, but having a smaller place to store drinks can cut down on trips in and out of the house. Traditional ice buckets will get the job, but to save space and earn a few style points, look for one that doubles as a side table, with a removable lid/tabletop for added functionality.
For serious beer lovers, instead of chilling a bunch of cans, consider putting a favorite beer or two on tap. Beer refrigerators (also known as kegerators) are refrigerators specifically designed to hold one or more half, quarter, or mini kegs of beer linked up to a fully functioning tap. These need to be plugged in to keep the refrigerator running, but plenty of models are rated for outdoor use, and can either be installed permanently into an outdoor kitchen or mounted on wheels to roll easily outside for a party.
For those who live in a fairly mild climate, perhaps the simplest way to keep drinks cold is to install a mini refrigerator or beverage refrigerator outdoors. These are often a part of larger outdoor kitchens, but they don't have to be: they can be installed anywhere with an outlet, and produce ice cold drinks on demand.
For more ideas about building a better back yard bash, check out the full article here.
HomeThangs.com is not only a home improvement superstore, it also provides expert design tips and a comprehensive shopping guide, taking the ideas from professional interior designers, and offering tips to the consumers on how to pick the products to best suit their needs.