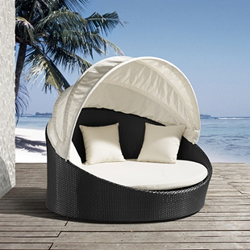 Outdoor beds with built in umbrellas have good overall coverage and a fantastic tropical look and feel.
(PRWEB) June 06, 2014
HomeThangs.com – the Online Home Improvement Store has made their goal to deliver the right product to the consumer. With that in mind, shopping and home design tips, as well as special product selections are being introduced.
Soaking up a little sun by the pool is one of the great joys of summer. But while pool loungers are a dime a dozen, and they'll certainly get the job done, they aren't always the most comfortable, and they certainly aren't the most luxurious. HomeThangs.com has introduced a guide to decadent, indulgent outdoor beds for those who prefer a slightly more decadent lounging experience.
As the name implies, outdoor beds are more or less beds that are meant to go outside, but they don't look like traditional beds. They aren't big and rectangular, and rather than conventional mattresses, they have large round or oval cushions, and are usually piled high with pillows. The most bed-like outdoor beds are really more like big, pillowy nests that are big enough to stretch out and really get comfortable in. Unlike traditional loungers, outdoor beds are very plush and soft, and they're often big enough for more than one person.
Other outdoor beds are a bit less like beds and a bit more like traditional loungers, at least in that they have adjustable backrests that can be laid out flat or tilted up into a sitting position. But unlike traditional loungers, they're typically large and oval shaped and have two separate adjustable sides to accommodate two people. They're also made of much more comfortable, cushier material, and sometimes have built in storage or cup holders. In some cases, both ends of this type of outdoor bed will be adjustable, making it possible to lay on comfortably in either direction without moving the bed, or even for two people to lounge at the same time while facing each other.
Not all outdoor beds are meant to be slept in, but many models sport at least some kind of sun protection. The most common features are canopies, which look a little like the convertible top on a car and function in a similar way: they can be folded flat against the bed's backrest when they aren't in use, or folded up and over the top of the bed to shade it. The size and shape of these canopies varies a little from one outdoor bed to another, but most are designed to shade the face and upper body, not so much the legs, so be aware of how much sun they actually block.
Alternatively, some outdoor beds have built in umbrellas. This gives better overall shade coverage, particularly when the umbrella is positioned directly over the bed, but also gives the outdoor bed a fantastic tropical look and feel. Like most patio umbrellas, these can usually be adjusted, tilted, closed, or even removed, and are a must-have feature for those that plan to actually sleep in an outdoor bed.
Outdoor beds can also work in back yards where space is a little tight – just look for ones that are sold in multiple pieces. These sets typically consist of a large, sofa-like piece paired with one or more smaller ottomans shaped to fit snugly up against the sofa. When pushed together, all these pieces form a full sized outdoor bed. But the real advantage of this design is that the pieces can also be pulled apart, and the ottomans used as seating or in some cases even side tables, meaning it can serve both as an outdoor bed and a full outdoor seating set as needed.
HomeThangs.com is not only a home improvement superstore, it also provides expert design tips and a comprehensive shopping guide, taking the ideas from professional interior designers, and offering tips to the consumers on how to pick the products to best suit their needs.