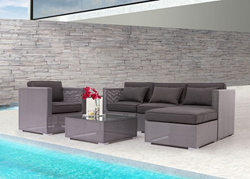 Even with only four types of pieces to choose from, DIY mix-and-match outdoor seating sectionals are amazingly flexible, making it possible to accommodate outdoor spaces of almost any size or shape.
(PRWEB) June 04, 2014
HomeThangs.com – the Online Home Improvement Store has made their goal to deliver the right product to the consumer. With that in mind, shopping and home design tips, as well as special product selections are being introduced.
Custom building an outdoor seating set can be expensive, invasive, and time consuming. DIY, mix-and-match outdoor sectional sets are more affordable, much faster and easier to install, and often have a very similar look and feel. HomeThangs.com has introduced a guide to using these ready-to-assemble sets as a short cut to high quality, attractive, relatively permanent back yard seating.
The concept of DIY sectional seating is simple: rather than building an entire large seating area as a single built-in piece, they ship in single-seat pieces to be assembled on location. The final look is very similar, as the separation between each seating chunk is only slightly more noticeable than the gap between individual seat cushions. Not only are these easier to assemble, they're easier to move, remove, and reorganize as well.
DIY outdoor seating sectionals generally consist of four types of pieces: seats with an arm rest on the right, seats with an arm rest on the left, seats with no arm rests, and seats designed to fit into a corner. Each one can be purchased in any number or combination, and they're all designed to fit seamlessly together, making it possible to build anything as small as a loveseat or chaise, or as big as the back yard can accommodate. As a bonus, any of the pieces can be moved slightly apart for use as individual chairs, or rearranged as needed to optimize seating.
The biggest advantage of having outdoor furniture custom built is that it can be made to accommodate unusual spaces. But even with only four types of pieces to choose from, these outdoor seating sectionals are amazingly flexible. Corner pieces allow the sectional to bend and curve to fit the shape of the outdoor space, while the blank middle pieces make it possible to extend each individual side of the sectional as far as necessary.
These sets can be used to make long, continuous sectionals that are L or U shaped, but can also be installed in smaller clusters, like a more conventional outdoor sofa. This is a particularly good option for very large outdoor spaces, where it can be difficult to find out of the box seating that's big enough to stand up to the space. Because the pieces are perfectly coordinated, they can even be used to build multiple sectionals in different sizes or shapes in different areas of a very large back yard.
Another advantage that mix-and-match outdoor sectionals have over custom built ones is the simple fact that they aren't custom built. That is, if part of a custom built sectional becomes damaged, it can be really difficult to repair or replace. But with a sectional that's built in pieces that are designed to be interchangeable, if one part gets damaged or stained, it's much simpler to obtain a replacement for the damaged part, or even simply replace a soiled cushion or matching pillows.
Plus, many mix and match outdoor sectionals are part of larger design sets, meaning it's easy to buy other matching furniture in the same style – like coffee or side tables, ottomans, or even dining sets or bar furniture. And of course, when a whole set of outdoor furniture gets shipped at once from the same company, it's easy to get it all set up quickly rather than waiting for construction to finish.
To find out more about DIY, mix-and-match outdoor sectional sets, check out the full article here.
HomeThangs.com is not only a home improvement superstore, it also provides expert design tips and a comprehensive shopping guide, taking the ideas from professional interior designers, and offering tips to the consumers on how to pick the products to best suit their needs.