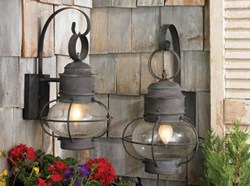 One of the best ways to make the most of these unique lantern lights is to match them (as well as possible) to the history of the house they'll be in.
(PRWEB) July 23, 2013
HomeThangs.com – the Online Home Improvement Store has made their goal to deliver the right product to the consumer. With that in mind, shopping and home design tips, as well as special product selections are being introduced.
Any lighting fixture that doesn't contribute to the style of a room isn't earning its keep. Sure, there are lights that are made for utility, but there's almost no reason to choose "just a light" when there's an option to get one that adds style, too. Luckily, one of the most traditional lighting choices for a farmhouse or cottage – the lantern light – also happens to be one of the most stylish. HomeThangs.com has introduced a simple guide to using this classic style to add an antique flair to a country cottage home.
All types of houses have lantern lights somewhere or other – inside, outside, front porch, back porch. The basic prism shape, glass panes, and wrought iron frame with a little cap on top are all as ubiquitous as they are iconic. These can be found just about anywhere, in just about any material, size, shape, or installation, often for pretty cheap. But it takes a little finesse to take this simple style from ordinary to extraordinary.
To get a lantern light that will really make a statement, look for models with a little historical flair that shirk the contemporary gold standard "lantern." Bulbous, antique oil lamps, railroad lights, and storm lanterns all have their own personality, while the heavily weathered metal parts and and bubbly antique-style glass create a charmingly old world touch. These old fashioned lights – which are as much accent as they are fixtures – are perfect for infusing a farmhouse or cottage with a slightly rustic, whimsical antique touch.
While the vast majority of contemporary designs are pretty similar, antique style lanterns are about as diverse as they come. It takes a little looking, but there are all kinds of lighting fixtures based on some of the more unique historical designs, from hurricane lanterns to carriage lights, oil lamps, and more. Because these styles are a bit out of the ordinary, they serve beautifully as a statement piece in a living or dining room, or even in the kitchen or on a porch or patio.
One of the best ways to make the most out of these unique lantern lights is to match them (as well as possible) to the history of the house. For example, in a seaside cottage consider ship lanterns, or in a more conventional country farmhouse, stick with traditional barn lanterns. For a house out west, look for railroad-inspired hurricane lanterns. Many turn of the century farmhouses and cottages are getting new life these days, and antique lantern lights offer a unique opportunity to preserve some of the history of the space. With the growing appeal of an industrial farmhouse style, whimsical antique lighting fixtures (including storm lanterns and pulley lights) are seeing a resurgence in popularity as well.
Of course, there's nothing wrong with a more contemporary lantern style, but to make the look work well, it needs to have a little personal flair. Antique metal finishes are a good place to start.
Styles range from wrought iron to polished brass and everywhere in between, but matching the metal parts to other antique hardware in the room can help create a more unified appearance. Second, pay attention to the glass. While different types of glass (seeded, water, mica, etc.) won't make much difference in the quality of light the lantern produces, it will make a big difference in the way the light itself looks.
Lantern lights are a big go-to fixture outdoors as well as inside, especially next to a front door or otherwise on a front porch near the entryway, but they can also be used to dress up a back yard. Elegant, old fashioned outdoor lights (like mason jar path lights) look great, giving an outdoor space a warm, inviting glow. These often use candle or oil lanterns rather than electric lights, which can turn a back yard into a whimsical wonderland, especially in areas with long, warm summer nights.
For more about using old fashioned lantern lights to build a cottage style, read the full article here, or check out more great vintage lights from Artistic Lighting.
HomeThangs.com is not only a home improvement superstore, it also provides expert design tips and a comprehensive shopping guide, taking the ideas from professional interior designers, and offering tips to the consumers on how to pick the products to best suit their needs.