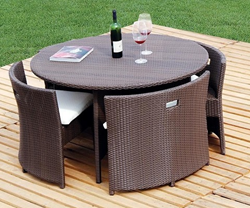 Flexible outdoor seating sets are made to fit in as small a space as possible and fill multiple roles as needed, making them ideal for decks and patios where space is limited.
(PRWEB) July 02, 2014
HomeThangs.com – the Online Home Improvement Store has made their goal to deliver the right product to the consumer. With that in mind, shopping and home design tips, as well as special product selections are being introduced.
Space is a major limiting factor when it comes to buying outdoor furniture, not just in terms of how much space is available, but also how it will be purposed. Combining casual seating and dining – and having enough seats in each – can be a major headache. HomeThangs.com has introduced a guide to flexible outdoor sets which tackle this problem head on, with designs that expand and convert with the size and needs of the group and stow away thoroughly and easily, maximizing the functionality of an outdoor area without taking up too much space.
The idea behind flexible outdoor sets is to pack as much functionality as possible into the smallest amount of space. That means starting with a shape – usually a square or circular outdoor dining table – and then creating pieces that nest entirely underneath it. Unlike traditional outdoor dining or seating sets where chairs or benches push up against the edge of the table, these are specifically designed so the seats fit entirely underneath the table when they aren't in use. There's no sacrifice to the amount of seating available, but the whole set takes up much less space.
And it isn't just chairs that can fit underneath a table. As long as there's still space to spare, more furniture can be nested inside it. One of the best examples of this is a design that's becoming pretty common: sets that include one square table with four square chairs and four square ottomans, all nested into a perfect cube, with the ottomans under the chairs and the chairs under the table. This is a fantastic setup for a small outdoor space, because not only does it provide a dining set for four, it can also easily be transformed into a comfortable, laid back seating set for four, or, in a pinch, even seating for eight.
Other designs go a step further in making a multi-purpose outdoor set with a spectacularly small footprint, replacing simple chairs with pillowy loveseats, each with two ottomans nestled underneath. These more elaborate sets can be arranged to look every inch like a traditional outdoor sectional set, but can also be used as a casual dining set, and pushed together into a single solid cube for easy storage.
Then there are flexible outdoor sets that focus solely on being able to scale to fit the needs of various sized groups. Adding or removing a leaf from an outdoor table isn't the only way to accommodate a bigger or smaller group anymore. Now there are telescoping tables which look like ordinary square tables, but can pull apart to double their length, with nesting benches that can be separated to double the seating capacity as needed.
Flexible outdoor sets can also be quite useful for those who only occasionally have guests. Rather than converting from seating to dining sets, some flexible outdoor sets are designed to convert from traditional seating sectionals into an outdoor bed. Simply push all the pieces of the sectional together to create a large, luxurious bed for a relaxed sun bathing session, or pull them apart to seat a full set of guests.
Finally, when the chairs are designed to fit entirely underneath the table, there's a bit more leeway for those who live in inclement climates to have thick cushiony chairs. Pushing the chairs underneath the table doesn't offer perfect protection from the elements, but it does offer some, keeping the worst of sun, rain, snow, and debris off the cushions. Plus, having an outdoor furniture set that fits into a single tight cluster also means it'll be much more convenient to stow away in the off season if needed.
For more ideas about choosing furniture for a small outdoor space, check out the full article here.
HomeThangs.com is not only a home improvement superstore, it also provides expert design tips and a comprehensive shopping guide, taking the ideas from professional interior designers, and offering tips to the consumers on how to pick the products to best suit their needs.