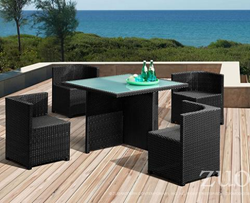 Nesting furniture can be packed completely away when not in use, and expand to form a full set of usable furniture when needed.
(PRWEB) August 09, 2013
HomeThangs.com – the Online Home Improvement Store has made their goal to deliver the right product to the consumer. With that in mind, shopping and home design tips, as well as special product selections are being introduced.
Summer is the season for outdoor entertaining, but it can be a little difficult to decorate a one-season space, especially a relatively small deck or patio. One of the best ways to maximize seating in a small outdoor space (and simplify storage in the off season) is to opt for nesting outdoor furniture. HomeThangs.com has introduced a guide to these outdoor dining sets, which are designed specially to fit into a very small footprint and stow away easily.
Nesting outdoor furniture is specifically designed so a set of typically four chairs fits completely underneath a compact table, often forming a smooth, solid exterior. This allows the furniture to be packed completely away when not in use, and expand to form a full set of usable furniture when needed. In fact, some offer more than just a table and chairs, occasionally including ottomans that can be used with the chairs, or even as chairs, effectively doubling the seating while taking up almost no space.
This is useful for outdoor spaces of every size. For a small deck or patio, it means having on-demand seating that won't take up space when it isn't in use. For a large outdoor space, it offers the ability to accommodate anything from a small group to a large crowd without having to overload on built in seating or outdoor sectionals. In a larger space, a nesting outdoor set can even be disguised as a large coffee table for a built-in sectional.
Nesting outdoor furniture makes a great alternative to the inexpensive throw-away furniture typical of the summer season – folding chairs, budget lawn chairs, or cheap plastic seating. The whole notion behind these budget options is that they can be put away easily and won't be a tragedy to lose. But nesting outdoor sets offer a sleek, polished appearance that budget options don't, and offer seating for four to eight in as little as a 40″ square.
As for the off season, many nesting outdoor sets are made of materials that hold up well to the elements, like synthetic wicker and coated aluminum or steel, so they're a little more durable than a lot of other outdoor seating options. Plus, because they're so compact and stowable, keeping them in storage during the off season becomes a much more viable option as well. Even keeping them covered – which is generally a rather unsightly option for large pieces of outdoor furniture - can work for nesting outdoor sets because they have a small, uniform shape.
Fully-nesting outdoor furniture looks totally normal when it's in use, but it can look a tad cubist when it's being stored. Circular nesting outdoor sets nix the boxy quality of some other designs while retaining many of the space-saving qualities. Rather than fitting entirely underneath the table, these come with wedge-shaped chairs that have cushions with a concave edge that allows them to be pushed almost all the way in against the table.
Unlike a conventional round table set, where ordinary chairs can be pushed in only part way, these circular sets maximize seating and minimize the footprint of the set by forming the chairs to the shape of the table. The cushions push right in against the base, and can reasonably seat two people per wedge – unlike conventional seating, which places one person at each of the four "sides" of a round table.
To see more nesting outdoor furniture, read the full article here, or check out the outdoor collection from Zuo Modern.
HomeThangs.com is not only a home improvement superstore, it also provides expert design tips and a comprehensive shopping guide, taking the ideas from professional interior designers, and offering tips to the consumers on how to pick the products to best suit their needs.